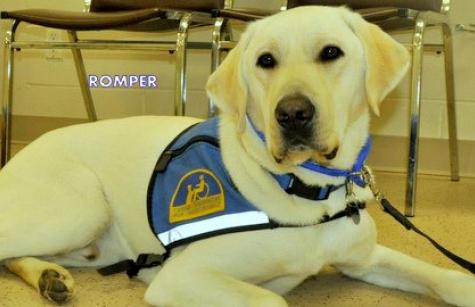 Walking the halls of Villa Assumpta in Baltimore is our new furry friend Romper.

Romper, a Labrador-Golden retriever mix, comes to Villa Asusmpta from Canine Companions for Independence. CCI provides assistance dogs free of charge. You might remember Newy, our previous dog; he also came to us from CCI.

The two year old ball of love is under the care of Sister Bernadette Walsh. She also took care of Newy and knew the sisters at Villa Assumpta needed a new companion.
"The reason why I did it is for the sisters I felt it was a way for them to receive unconditional love and canines, animals, are filled with so much love," she said. "They love to be loved so it's a perfect match for us to have him."

Romper will be providing more than love to the sisters. He is trained to respond to 50 commands, including the usual sit and lay down but he also able to open doors that have a handicap button.

To learn all of those commands Sister Bern and Romper trained for two weeks at CCI's Long Island campus.

"It's quite intense," she said. "You have lectures, and then train with canines, and you go out with them to different facilities like Target and other stores to practice how they would respond in public."

After playing together one afternoon during the training session the CCI team new that Romper and Sister Bern would be a great pair, and it's been happily ever after since then.

"We needed another love bug and we got one and he's really terrific. He has a lot of personality and the sisters really love him," she said. "He brings them a little more happiness."

Learn more about Canine Companions for Independence and watch a video of Romper on our new Facebook page.