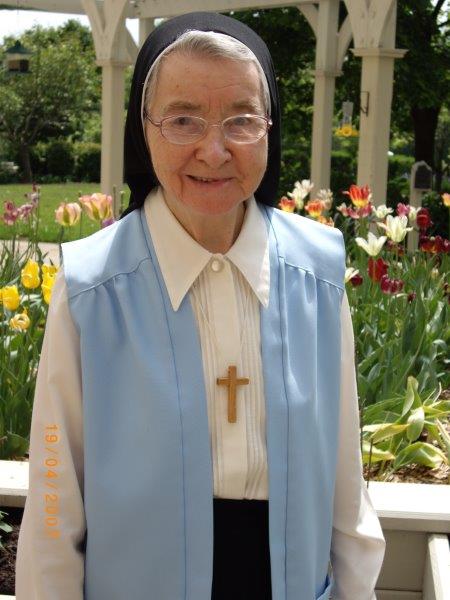 Sister Chabanal Schumack, SSND
July 27, 1926 – August 8, 2022
Sister Chabanel, a member of Notre Dame community, Waterdown, Ontario passed away peacefully on August 8, 2022 at the age of 96 and in the 72th year of her religious profession.
Leocadia was the third oldest child of 18 children, eight of whom died as infants. Both her parents were of German descent. Her father, Frank, was born in Germany, and her mother, Josephine Senger, was born in Russia.
Leocadia grew up on the family farm near Salt Lake, Saskatchewan. She attended Keomsteadt Public School. She recalls driving to school over the prairie roads, especially through the crisp, frosty air of winter, in an open sleigh. For several years her father was a trustee for the Keomsteadt School Board.
Leocadia's first desire to become a religious was when her sister, Veronica, started high school at Notre Dame Convent, Leipzig. Leocadia prayed fervently to the Blessed Virgin Mary to guide her. On October 7, 1947 she entered at Notre Dame Convent, Leipzig, and on December 8, the feast of the Immaculate Conception, she received the Candidate's bonnet. The following week, Leocadia travelled to the Motherhouse in Waterdown. Here she was involved in various household tasks during her formation years. On August 1, 1949 she was received as Novice Mary Chabanel. Her added joy was having her parents present for the ceremony. She professed her vows on August 2, 1950.
Sister Chabanel was a devoted homemaker in convents in Kitchener, Mildmay, Formosa and St. Catharines. In 1956 she moved to her home province of Saskatchewan, living in Handel and later in Wilkie. She enjoyed visiting the sick in hospitals and the elderly in nursing homes. She helped the Catholic Women's League cater meals for parish funerals and other parish events. Whenever she had the opportunity, she attended workshops on spirituality.
From 1961-1965 Sister Chabanel lived in Cloverdale, British Columbia. In addition to visiting the elderly, she supervised the school children at noon hour. On her return to Waterdown, she assisted with nursing care in the infirmary for several years. In 1979 Sister Chabanel moved back to Wilkie. On retiring to the Notre Dame Convent, Waterdown in 1988, she helped in the Marian community, attending to the personal needs of the senior Sisters and assisting in their dining room.
Sister Chabanel was very conscientious, always kind and attentive to others. As a homemaker she provided nutritious and tasty meals. She was famous for her delicious borscht soup. In addition to food preparation, she performed other household tasks, which were greatly appreciated by the members of her community. During her years assisting in the convent infirmary, her kind and gentle manner comforted the lives of the Sisters.
Although Sister Chabanel had health issues, including limited vision, she did not complain. She was always pleasant and peaceful.
In a reflection by Rev. Michael Peterson, OSB, he writes that "Pots and pans, dinner tables….are sacred vessels of the altar, bringing Jesus to others on the altar of the world." Sister Chabanel in her simple, kind and generous manner brought Jesus to those to whom she ministered.
During the Ritual of Remembrance for Sister Chabanel, the setting sun shone through the stain glass windows of the convent chapel and reflected their myriad colours on the sanctuary wall, fittingly symbolic of the resurrection.
Mass of Christian Burial was celebrated by Rev. Pablito Labado, chaplain, on August 12 followed by interment at Gate of Heaven Cemetery, Burlington.
She is survived by her sisters Veronica Coumont, Anne Keller, Cecile McDonnell and Patricia Olsen and her brother, Jerome .
-    S. Joan Helm, SSND