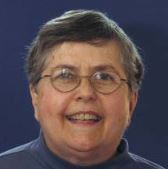 Sister Claire LoMaglio, SSND
July 26, 1943-January 24, 2021
Claire LoMaglio's parents were married at the Cathedral of the Holy Cross in Boston. Her mother, Julia Claire Cibulsky, was a Bostonian, and her father, Lawrence M. LoMaglio, had emigrated from Caltinisetta, Italy. They established their home in Rochester, New York, where their only daughter, Claire Frances, was born on July 26, 1943, and baptized at Holy Redeemer Church, an SSND parish.

When her brother Lawrence, Jr. was born two years later, Claire says in her autobiography that she was very naughty at first, but she eventually accepted her new brother, and they became good friends; she nicknamed him "Skipper." Now living in St. Augustine Parish, Claire started kindergarten at the parish school with the Sisters of St. Joseph in 1948. She called herself, "Miss Mischief and Chatterbox," during her grade school years. Highlights were First Communion in 1948 and Confirmation by Bishop James Kearney in 1953.

After graduation in 1957, Claire enrolled in St. Agnes High School and told her parents of her desire to become a Sister.  "They failed to believe me," she wrote, and added her youthful response, "Well, I'd show them, and prove to them my determination to follow His call." In her sophomore year, a classmate introduced her to the SSNDs at St. Peter and Paul Convent.  Her love for the Sisters grew during the next two years. "Such a different but friendly order won my heart," she wrote.
After graduation in 1961, she spent a month in Tucson with her brother Larry and relatives, "a marvelous tour from East to West I'll never forget."

When she got home, there was a letter from Wilton saying that her entrance was delayed until September 15 because the brand-new Motherhouse would not be ready until then.  The wait was anxious, full of questions. "What would being a pioneer be like? Would I like this new life? Would I get enough to eat? What would classes be like?"  Her autobiography ends with, "They've all been admirably answered, as I've found happiness in the numerous good things God has given me at Wilton."

A year later, Claire became Sister Marie Lawrence at Reception on July 7, 1962. First profession followed exactly a year later in 1963, and she began her teaching ministry at Our Lady of Mount Carmel School in Poughkeepsie, New York, for the next five years.  Her hometown then claimed her services for eight years at St. Margaret Mary School in Rochester. Four years in Pastoral Ministry brought her to St. Theodore in Rochester and Children of Yahweh in McKees Rocks, Pennsylvania. These culminated in a year of service at Wilton, and four years of ministry as a Nurses' Aide at Lourdes Health Care Center from 1981 to 1985.

Claire received the degree of Bachelor of Education from the College of Notre Dame of Wilton in 1970, and a Master's in Education from the State University of New York in 1975.

At Bridgeport Hospital School of Nursing, Claire became an R.N. on August 1, 1987 and then returned to the staff at Lourdes until 1991. Claire served with the Visiting Nurses of Connecticut for eight years, until she took a year to care for her mother at the family home in Rochester. After her mother's death in 2003, Claire spent two years at Nursefinders in that city. When she returned to Connecticut, she became a part-time Hospice Nurse with Norwalk Hospice until 2010. Her work as a nurse, and her faithfulness to Weight Watchers, made her many friends in the area. Community service at Villa Notre Dame, especially driving, became Claire's final gift to her Sisters.  
Claire tested positive for Covid-19 on January 20, 2021. She succumbed to the virus on the 24th at Norwalk Hospital. Her quick and unexpected death brought shock and sadness to the community. With these feelings came also a deep, quiet hope that the peace that seemed to elude Claire in life was now abundantly hers in the loving presence of God. Her brother Larry and his family survive her in Canandaigua, New York.

Sister Claire's cremains will be buried at St. Mary Cemetery, Bethel, Connecticut. A Liturgy of Christian Burial will be celebrated when possible in the future.     

By Sister Kay O'Connell, SSND