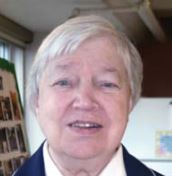 By Sister Joan Helm, SSND
Sister Eleanor died at Notre Dame Convent, Waterdown, Ontario on January 24, 2021 at the age of 102. She was in her 84th year as a School Sister of Notre Dame.
 
Eleanor was born in the village of what was then New Germany, Maryhill to Frank and Bertha (Crocock). She was the third-oldest in a family of eleven, six boys and five girls. In her autobiography, Eleanor recalls her childhood days as fun-loving and happy times. She took a special delight in flowers and birds and the beauty of nature. Often she was a source of annoyance by bringing home stray dogs and lost kittens. In the evenings, she would play school with her younger brothers and pretend she was Sister Lucitta, her primary teacher.
 
Eleanor attended St. Boniface School, Maryhill for Grades 1 -10. From her earliest childhood, her one great ambition was to become a School Sister of Notre Dame. In September 1933 Sister Eleanor entered the candidature in Waterdown. Here she continued her high school education at Notre Dame Academy. In July 1936 she was received as Novice Mary Laurentia. The following year she professed her vows on July 28, 1937.
 
Having completed her year at Hamilton Teacher's College in 1938, Sister Eleanor taught at the following schools: St. Mary's, Sacred Heart; St. Joseph and St. Anne in Kitchener; St. John and Holy Family in Hamilton; St. Clement in Cambridge; and Our Lady of Lourdes and St. Michael in Waterloo.
From 1957-1961 she was principal of St. James' School, Oakville. Sister Eleanor then taught at Bishop Ryan High School, Hamilton and St. Mary's High School, Kitchener. Following a year at the Divine Word International Centre in London, Sister Eleanor began her years in pastoral ministry at Regina Mundi Parish, Hamilton. Her ministry included directing the Legion of Mary, leading prayer services at Chedoke Hospital, visiting seniors and advocating for their needs.
Later, Sister Eleanor assisted at St. James and St. Joseph Parishes in Oakville. Since St. Joseph Church was not yet built, her work base was from her convent home in Burlington. Her main responsibility was visiting families, organizing catechetical programs and sacramental preparation.
 
Through the years, Sister Eleanor advanced her education by taking courses offered by the Ontario Department of Education, and also at St. Michael's Schola Cantorum, Toronto. In 1964 she received her  B.A. degree from McMaster University, Hamilton and in 1978 her B.A. degree from Newman Theological College, Alberta. Also, she studied at Jesuit University, Seattle, Washington.
 
From 1994-1997 Sister Eleanor served in pastoral work at Our Lady of Perpetual Help Parish  in Kamloops, British Columbia. On her return to Ontario, she lived at St. Louis Convent, Waterloo, where she assisted with the Catechetical Correspondence Program. In 2005 Sister Eleanor moved to Notre Dame Convent, Waterdown.
 
For her 70th Jubilee in 2007 her family had a special celebration at St. Boniface Church, Maryhill. Her extended family was present for the Eucharistic liturgy and luncheon in the church hall. Sister Eleanor enjoyed her 100th birthday celebration with the Notre Dame community and relatives on May 29, 2018.
 
During her years in education and pastoral ministry, Sister Eleanor was noted for her caring, compassion, and supportive attention to individuals and families. She had a special devotion to the Blessed Virgin Mary. In her autobiography Sister Eleanor  wrote that she was honoured to have been born in May, the month dedicated to Mary.
 
Mass of Christian Burial was celebrated by Rev. Pablito Labado, chaplain, at Notre Dame Convent, Waterdown on January 27. Due to COVID-19, only community members were present. Family members were invited for the interment at Gate of Heaven Cemetery, Burlington. Loretto Donald is her only surviving sibling.