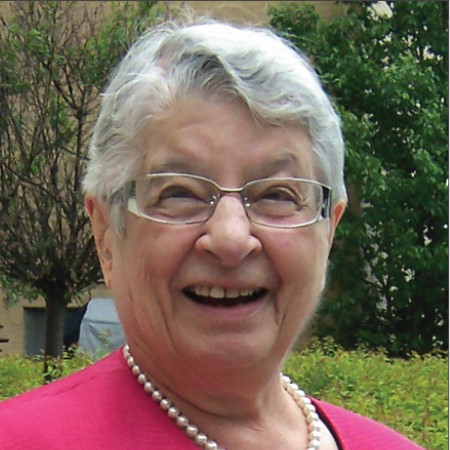 Sister Estelle Malleck, SSND
February 19, 1916 – March 7, 2020
Sister Estelle Malleck died at Notre Dame Convent, Waterdown on March 7, 2020, 17 days after her 104th birthday. She was in her 83rd year as a SSND.
Born Florence Malleck, she was the fifth child in a family of 12 children. Both her parents, Thomas and Stella (Streich) Malleck, had been born in Lebanon. Florence attended schools taught by SSNDs in Hespler and Preston. When her family moved to St. Agatha, she lived with her aunt in Kitchener so she could attend St. Mary's High School in Kitchener.
After Florence graduated from Grade 12, she stayed at home to help care for her younger brothers and sisters. In 1933, she entered the candidature in Waterdown. She recalls the daily routine and "Quiet, Quiet, Quiet" times. Her salvation was practicing piano for a few hours each day. She became Novice Mary Estelle on July 27, 1936, and professed her vows on July 28, 1937.
Sister Estelle advanced her studies in music by taking courses from the Toronto Conservatory of Music and attained her ATCM (Associate Degree). In 1941 she was sent to Notre Dame of Welland, where she opened a music studio and taught until1951. During these years, she also took several courses offered by the Royal Conservatory of Toronto at the University of Toronto, including vocal, theory, and the Orff Approach to music education. She also took choir training from St. Michael's Choir School, Toronto.
Sister Estelle was in charge of the music at Notre Dame Convent. She taught piano to students of Notre Dame Academy and directed the Glee Club. In 1954 she moved to Cambridge, where for the next 12 years she was music consultant in several schools, while also teaching individual students. Not only did she teach music and direct choirs, but she was also an organist in parish churches.
In 1971, Sister Estelle went to Lingfield, England, where she taught singing at Notre Dame School and piano to individual students. Then, in 1973, she participated in an exchange program with the Mankato province. For the next two years she taught music at Sacred Heart School in St. Paul, Minnesota. These were enriching years for Sister Estelle, as she entered fully into the life of the Mankato province.
On her return to Ontario in1975, she taught music at St. Joseph School, Aurora. Later, Sister Estelle ministered in Aroland, St. Agatha and Hanover. From 1988-1991, she lived in Dulwich, England. Here she visited the sick and elderly. Sister Estelle lived in Kitchener from 1992 – 2004. During this time she was organist for some liturgies at Sacred Heart Church. On her retirement to Notre Dame Convent, Sister Estelle continued to play the piano for various events.
Sister Estelle had a remarkable memory and enjoyed sharing humorous anecdotes from her years of teaching. At a Notre Dame Academy Reunion in 2000, she greeted two students from the 1950s who were in her Glee Club. She said, " Dianne you sang alto and Theresa you sang soprano," much to the amazement of both.
Sister Estelle was a unique person and comfortable with her uniqueness and straightforward manner. She valued keeping in touch with her family and friends.
She was grateful for the many blessings she received through her life's events and the many people whom she encountered during her long life.
Mass of Christian Burial for Sister Estelle was celebrated on March 11 at Notre Dame Convent, Waterdown. The presider and homilist was Rev. Wayne Lobsinger, Episcopal Vicar for Consecrated Life for the Hamilton Diocese. Concelebrant was Rev. Pablito Labado, Chaplain. Her brother, Robert, and her sister, Lucille Alviano, and other family members attended. Her two other sisters, Camille Malleck and Prudence Badali, were unable to be present. Burial followed at Gate of Heaven Cemetery, Burlington.
-    S. Joan Helm