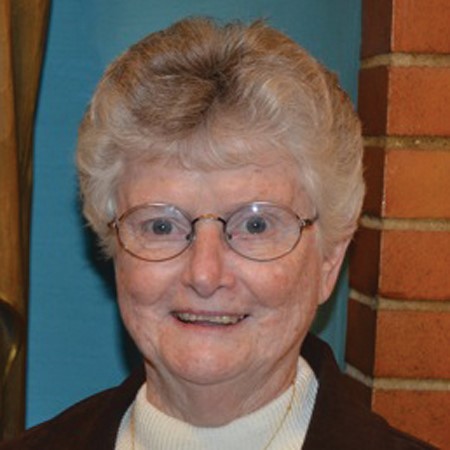 Sister Marie Patrick McDermott, SSND
July 12, 1934 – February 23, 2020
Ellen Mary McDermott was born in Glen Cove, Long Island, NY, on a morning she later recorded as "warm," July 12, 1934. She was almost immediately called Nellie, a name that would follow her through life. The daughter of Patrick McDermott and Julia Ahern, Irish Immigrants from County Sligo and County Kerry, respectively, she was baptized in St. Patrick's Church two weeks later. Ellen was the fifth child, having two brothers and two sisters. The family lived in Brookville, L.I., until they moved to Glen Cove in 1938.
Nellie was educated by SSNDs from kindergarten to eighth grade at St. Patrick's School. She made First Communion in 1942, and was confirmed by Bishop Kearney in 1945, taking the name Ann. At Glen Cove Public High School, she took the commercial course, having decided to become a secretary like her two older sisters. This decision was a disappointment to her grade school teachers, she noted in her autobiography.
Her first job using her typing, shorthand and bookkeeping skills was with Rex Pioneer, Inc., until 1959. Of this time, she wrote, "I was satisfied but felt something was missing." During Lent of 1957, she began to go to daily Mass, and eventually the thought of a religious vocation came into her mind. Her confessor assured her that this was possible but, she says, she "was a wee bit cowardly about it."
Nellie felt that she could not enter a teaching order because she "did not have the necessary education for school, and did not look forward to 'getting back to the books.' " She wrote to the Mission Helpers of the Sacred Heart, whose work was catechetical instruction, but when she learned that a college education was required, "that put an end to that."  After much prayer and spiritual guidance, in 1957 she decided that "I could not turn my back on the Sisters who had taught me for nine years, so I decided to enter SSND, but my courage failed, and I postponed any further plans. But I did not give up…I was enjoying life, my job, family, nieces, nephews and friends, but when I thought deeply, I found out I was not truly contented."
Membership in the Legion of Mary inspired her devotion, and she prayed unceasingly for guidance and courage.  In 1962, "Our Lady really directed me right to her Son and herself, to the SSNDs at Wilton." No one knew of her decision, except her spiritual director. When the first reply came from Mother Paschal, it suggested that she make up some high school credits. After tutoring in Algebra and Latin I, and studying for college boards, she received her letter of acceptance on May 12, 1962.  
                    My family heard the shocking, but joyful, news on May 14.
                    I began then to pray for the courage to persevere in my
                    decision and to stay in one piece when saying good-bye to my
                    family. Being the youngest in a very close family and having
                    been home so long, I knew leaving was not going to be easy.
                    Once again Our Lady took over and all went well.
Sister Estelle Stack and Pastor James Boesel, who had been very encouraging to her, presided at the reception ceremony at St. Patrick's, Glen Cove, on September 8, and she went to Wilton thinking it would be four or five years before she began teaching.  Five days later she was standing in front of 36 first graders at St. Jerome's School in Norwalk, Connecticut, thinking, "Here I am, I who had been banging away at a typewriter for ten years." Later, she remembered all the sisters who were so kind to her and made her first year quite memorable.  "It wasn't easy, but I enjoyed every minute trying to instill reading, math and writing skills into little minds.  I shed a few tears saying good-bye to the children in May."
At Reception in July, Nellie became Sister Marie Patrick and began college studies.  First profession followed on August 4, 1964, and final profession on July 26, 1969. From 1965 until 1980, she was missioned to St. Anselm School in Brooklyn. In 1971, she received her Bachelor of Arts degree in Elementary Education from the College of Notre Dame of Maryland.
Then began for Marie Patrick a 40-year love affair with St. Brigid School and Parish in Westbury, Long Island, teaching second grade, then religion part-time. She went home to God from there in 2020, never having relinquished her beloved preparation of children for First Communion.  Paul Clagnaz, Principal of what had become St Brigid/Our Lady of Hope Regional School, spoke of those decades at her funeral in Wilton.
With emotion, he recalled some highlights of her life and personality— Marie Patrick never retired, she went on part-time when computer skills were  required for report cards; she avoided going to Wilton but loved being an SSND; her love for the Eucharist formed three generations of second graders as she prepared them for Communion; she taught Irish dancing around St. Patrick's Day to every child, regardless of ethnic background, and that grew greater every passing year; she loved what she was doing and the people she ministered to, and was productive and valued until the end.
The parish returned Marie Patrick's devotion lavishly at the time of her sudden heart attack and death two days later, on Sunday, February 23.  On Thursday, February 27, several of her profession classmates were present at her wake in the parish. Father Tony Stanganelli, Pastor, presided at a Mass of Remembrance on Friday, at which the Church was packed. Two priests and four parish deacons presided with him.
The school classes from second to eighth grade were there, providing a touching moment when they sang, "Jesus in the Eucharist," a First Communion hymn Marie Patrick had taught them all.  All her Sisters present gathered around the coffin to sing their SSND farewell blessing. Marie Patrick's death ended the longer-than-a-century ministry of School Sisters at St Brigid's; they opened the school in 1918.
At Wilton on Saturday morning, February 29, Father Tom Elliott, VND chaplain, presided at the Liturgy of Christian Burial for the Villa community, her brother Michael, his wife, and many family members.  Burial followed at St. Mary Cemetery, Bethel, Connecticut.
-    Sister Kay O'Connell