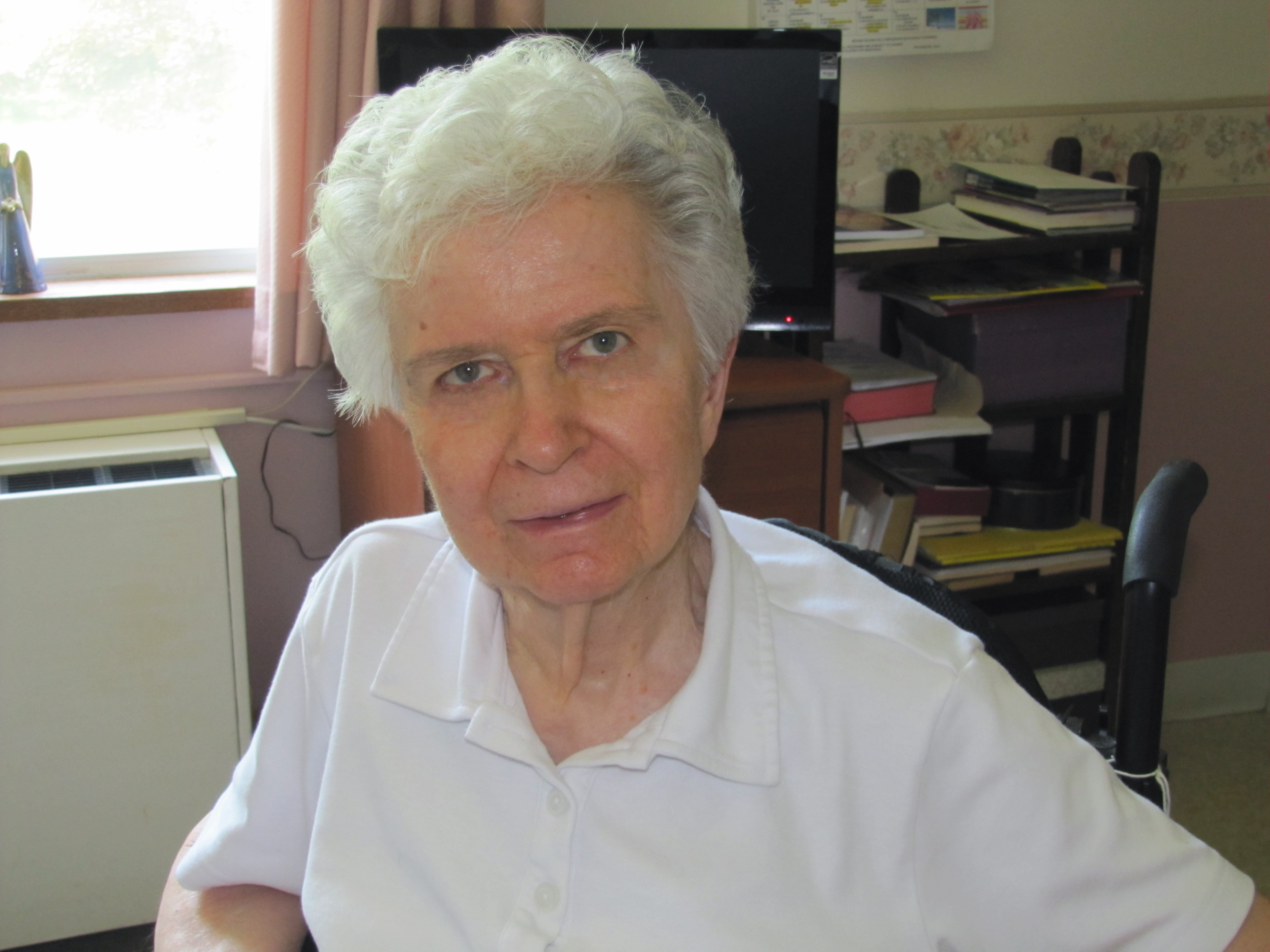 Sister Mary Elizabeth Sharp, SSND
February 22, 1925 – December 18, 2019
Sister Mary Elizabeth was born near Prospect Park in Brooklyn, New York, on February 22, 1925, the first child of James Clayton Sharp, a devout Catholic, and Eleanor Weed Sharp, who had become a convert at her engagement. Later, the family grew to six children, three boys, and three girls. Westbury, Long Island became their home when Mary Elizabeth (her Baptismal name) was five. She wrote in her autobiography that even before she started at St. Brigid School, "I had made up my mind to become a religious. My mother herself first told me about the Sisters and said she would be very proud of me if I should become one."
At St. Brigid, an SSND school, Mary Elizabeth received first Communion in 1931, was confirmed by Bishop Kearney of Brooklyn in 1935, and graduated in 1939.  Her eighth-grade teacher, whose name she does not mention, told her about the Juniorate at Holy Angels in Fort Lee, New Jersey, and brought her and her mother up to see it. She also "arranged for my going there when Mother and Daddy said yes." Mary Elizabeth describes her choice of SSND as "the example of the Sisters as well as my love for school." 
She called Holy Angels "my second home," and got the lifelong nickname "Sharpie" there.  After graduation in 1943, on August 29, she received the bonnet of a Notre Dame Candidate in the convent chapel at Westbury from her uncle, Father J. K. Sharp. Two years later, eagerly awaiting Reception into the Novitiate, she wrote, "I have been engaged in attending school, while the rules and prayers helped to fashion my soul.  . . . it is with real desire that I await July 16.  The example of the Sisters drew me long ago to this Order, and now, as the days grow shorter, it draws me stronger still."  At Reception she received the religious name, Mary Bertha.
After a one-year novitiate, Sister Bertha made first profession on July 31, 1946, and began a long ministry in elementary and mostly middle school teaching at Corpus Christi in Baltimore. Until 1975, she taught at Notre Dame Lower School, Towson, MD; St. Teresa, Trumbull, CT; St. Peter, Newark, NJ; Most Holy Redeemer, NY (17 years); St. Joseph, Lake Ronkonkoma, NY; and St. Matthias, Brooklyn, NY.  Nine Years at St. Thomas Aquinas High School in Dover, NH brought (now) Sister Mary Elizabeth to 1984. 
Somehow, during these demanding years, Mary Elizabeth earned a B.S. in Education from Seton Hall University in 1957, an M.A. in Philosophy from Fordham University in 1967, and an M.A. in Religious Studies from Providence College. During summers she taught philosophy at the College.
She enjoyed secondary school teaching, but after it she entered into her "second career, one that lasted for 17 years." At Calvary Hospital in New York, she became a student of Physical Therapy and then served as Assistant Therapist at Lourdes Health Care Center in Wilton until 2002.  Here, she was a loved member of the staff, bringing the gifts that had made her a patient, loving and kind teacher for so many years. A 1999 picture in the Wilton Current shows her "practicing range-of-motion exercises with Sister Dorothy Shaughnessy in the sun-soaked dining room at Lourdes."  Mary Elizabeth usually worked in the physical therapy room and was responsible for that department. She is quoted as saying that she loved her work and truly enjoyed helping people.
After these lengthy and fruitful years of ministry, Mary Elizabeth retired in 2002,
and after some years in the Motherhouse community, she became a resident of Lourdes. She described her life there this way, "I gather most evenings with a group for evening prayer and enjoy a variety of activities, including Scrabble, and musical entertainment. I like reading and especially look forward to our spiritual book club.  It enables me to join with other Sisters in discussion, sharing and deepening our spiritual experiences." 
During all these years, her brother George, a diocesan priest now at St. Michael Parish, Lindenhurst, N.J. was a faithful visitor.  Often they shared meals together in her room or in the breezeway.  Their sister Claire, of Boca Raton, Florida, was a very generous benefactor of Lourdes Health Care Center.
Mary Elizabeth was among the first group of Lourdes residents who went to Ozanam Hall, a ministry of the Carmelite Sisters of the Aged and Infirm, in Queens, New York, in late September 2019.  They saw themselves as establishing an SSND mission in Queens when it became necessary to close Lourdes. 
Mary Elizabeth was the first SSND to die there on December 18, 2019. A wake and funeral Mass were celebrated there for the consolation of our Sisters on December 20. Her body was brought to Wilton on December 22; a wake service that evening was presided over by Sister Shawn Kavanagh, and fond memories were shared. The Liturgy of Christian Burial was concelebrated on Monday, December 23, by her beloved brother, Father George Sharp, and Villa Notre Dame Chaplain Father Tom Elliott. Burial followed at St. Mary Cemetery, Bethel, Connecticut.
-    Sister Kay O'Connell