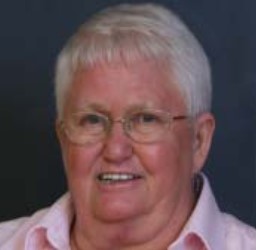 Sister Mona O'Connell, SSND
January 25, 1943 – March 25, 2020
Margaret Elizabeth O'Connell was born in Leominster, Massachusetts, on January 25, 1943. She was baptized in nearby Fitchburg at St. Bernard's Church on February 14. John Dennis O'Connell and Margaret Veronica Collins, her parents, were both originally from New Haven, Connecticut, and the family moved back there during World War II.
One brother, Jack, and three sisters, Denise, Joan and Mary Jane, completed the family. Margaret, with her dark hair, was the only one who was not a redhead, her sister Mary Jane remembered recently. Margaret went to high school at Sacred Heart Academy in New Haven; her teachers were the Apostles of the Sacred Heart, (ASCJ). Their Motherhouse was in Hamden, Connecticut. She entered this community after graduation in 1960. The religious name given her when she became a novice in 1962 was Sister Mona.
Her ASCJ missions, after first profession in 1963, were grade school teaching in St. Louis, Missouri, and New Haven. In 1971 she was awarded a BA in English by Marillac College, which was founded by the Daughters of Charity as part of the Sister Formation Movement. Mona was one of many young Sisters from 25 communities who were educated there until it closed in 1974.
IN 1980, Mona asked for, and received, an exclaustration. She needed time to think over the renewal mandated for Sisters by Vatican Council II. She had met SSNDs in St. Louis and was welcomed into community at St. Leo Convent in Irvington, New Jersey. From then until 1986, Sister Mona taught English at Archbishop Walsh High School and served as principal in her last year there.  From 1980 to 1982, Mona was instructed in, and prayed over, You Are Sent.  Its vision of the renewal of religious life profoundly attracted her, and she made perpetual profession as an SSND on September 19, 1982.   
   
At St. Elizabeth Academy in Convent Station, New Jersey, she taught for four years until 1990, when she became a graduate student of Literature at Fordham University. Mona, as part of a sabbatical, gave some service at Villa Notre Dame in Wilton, and then spent personal renewal time at The Blessing Place in Lacombe, Louisiana.  At her Silver Jubilee in 1988, she went to Rome with her SSND "crowd" to experience the Jubilee Program at the Generalate and in Munich.  She also visited Ireland twice, once finding her grandfather's town of Adsorin in County Leitrim, and once enjoying a seminar on Irish poetry.
By February 1995, Mona began to minister in a particular way to God's beloved at Good Counsel Homes, "a private Catholic Agency whose mission is to help homeless, pregnant women by providing a loving, family environment in a safe and secure shelter." She became live-in House Manager in the Poughkeepsie Home for three years, and when that had to close, she came to East Norwalk, Connecticut to oversee the opening of the Malta House of Good Counsel. It accommodates 10 women in the former St. Thomas the Apostle Convent.
To say that Mona loved this ministry would be a gross understatement. Here are some of her recorded remarks:
                I loved teaching, and my Good Counsel work is still
                about education. I'm constantly educating and
                being educated.
                A little boy said to me, 'It's nice here.  I really like this
                Place.' It's the best reward I'll ever get.
                It's the children who make my work so satisfying.
                I've been present at I don't know how many deliveries.
                and cut more umbilical cords than I've ever dreamed.
                That is a graced moment.
                You know when someone cries in your arms that you are there
                 for a reason.
Mona became Director of Residential Services responsible for seven Good Counsel Homes in NY, NJ, and CT in 2000, overseeing their day-to-day operations. She also implemented Life Skills programs in parenting, nutrition, spirituality, health and social skills. During these years, she lived with a small community on the grounds of Academy of the Holy Angels in Demarest, New Jersey.
Mona retired in 2014, after almost 20 years of service to the Good Counsel women and children, work for which she received many awards. She came to Villa Notre Dame then. One beautiful feature of her life there was her friendship with Sister Genevieve Kelleher, whose eyesight had failed. They had lived together at Holy Angels.  
                
In 2018, Mona attended the local celebration of the beatification of Blessed Clelia Merloni, foundress of the Apostles of the Sacred Heart, in the Hartford Cathedral. She enjoyed seeing many Sisters she hadn't seen for a long time, and found the reunion a good experience.
Mona was taken to Norwalk Hospital on March 23 and died there two days later from respiratory illness. This was a great shock to her family and community. She was able to speak with her sister, Mary Jane, before she died, but attempts by the doctor to connect her with VND, so the Sisters could pray and perhaps sing with her, were not successful.
On Monday March 30, Mona was buried in St. Mary Cemetery, Bethel, Connecticut, with two Sisters from her small community present.  At VND, led by Community Leaders on the intercom, the whole community prayed the graveside service at 11 am when it was taking place in Bethel. A Liturgy of Remembrance will be celebrated at VND when it is possible at a later date.