Patricia Ann Warnick SSND
July 17, 1937 – Jan. 13, 2021
By Jeanne Hildenbrand, SSND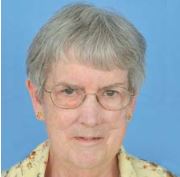 "July 17, 1937 was a normal summer day for most residents of Baltimore City, but to Teresa Hickey and Arthur Alton Warnick, a young Catholic couple, it was one of great joy."  Patricia Ann, the first of two daughters made her debut into the world on that day. Pat and little sister Carol, born a few years later, were "nourished with deep love."  
Pat started elementary school at the Shrine of the Little Flower. As a fourth grader she transferred to the Institute of Notre Dame because of her mother's awareness of the School Sisters of Notre Dame's "outstanding reputation for training girls."  Pat continued her education at IND through high school and  graduated in 1955.
Planning to become a physical therapist, Pat began studies at the University of Maryland at College Park.  Feeling that she was not in the "right vocation, but not knowing just what was the right vocation" for her, Pat transferred to the College of Notre Dame of Maryland. She recalls that "In the middle of my sophomore year, I felt a desire to become a nun." One day a friend said, "I'm good at recognizing future nuns and I think you are one." Pat gasped and said that it was true. Pat entered the School Sisters of Notre Dame on Sept. 7, 1957, receiving the candidate's veil in the chapel of Notre Dame College. She completed her junior year of studies during the candidature.
Pat was received as Sister Carol Mary, on July 12, 1958.  She professed her first vows on July 25, 1959.  While a junior sister, Sister Carol Mary earned a Bachelor of Arts with a major in History and minor in Education from the College of Notre Dame of Maryland on June 5, 1960.
After beginning her ministry teaching grades 5 and 6 at Sts. Peter and Paul School, Camden, N.J., Pat was an upper elementary teacher for almost 50 years. She served at many schools, including St. Teresa, Washington, D.C.; St. Mark, Catonsville; St. Ann, Baltimore; St. Ambrose, Baltimore; Our Lady of Perpetual Help, Washington, D.C.; and Mother Seton Academy, Baltimore.
Peaceful and prayerful, Pat lived the life of a quietly caring School Sister of Notre Dame. She answered her call with humility and concern.  A truly gentle woman and one who shunned the limelight, Pat was always there for others. In later years, she devoted time to visiting SSNDs in retirement at Villa Assumpta.
Her gift for friendship led Pat to stay intertwined with friends from many facets of her life.  Her IND friends were the "golden girls."  She kept in touch with her "crowd" and continued to contact and meet with fellow teachers, Sisters from other congregations and former students.
Pat loved to read and to visit the library.  She always had a book available and enjoyed sharing opinions on favorite authors. In later years, Pat was a regular when the bookmobile arrived at Villa Assumpta. Another distinguishing quality was Pat's ability to find her way about when driving. She was an able guide who could direct other drivers, especially in the confusing roads around Washington, D.C.
Sister Patricia died on Jan. 13, 2021 at the University of Maryland Medical Center.  Her remains were buried at Villa Maria Cemetery, Glen Arm, Md. on Jan. 21, 2021. A Memorial Mass in Sister Patricia's memory will be celebrated at a later date.
Sister Patricia is survived by her sister, Carol Heinlein, nephew, Kenneth Walz and his wife, Lisa, and many great nieces and nephews.