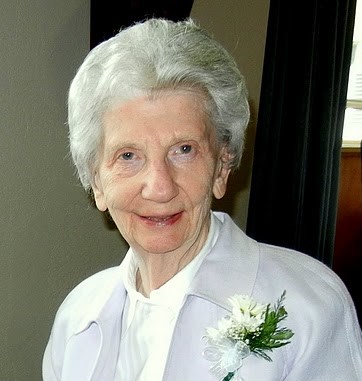 Rosemary Dilli, SSND
October 26, 1930 – September 9, 2020
Born in Baltimore, Md. on Oct. 26, 1930, Rosemary was the second daughter of John and Mary Theresa Handke Dilli.  John Dilli immigrated from Pescara, Italy to Baltimore in 1905.  Mary, his wife, was a native of Baltimore.  In addition to her sister, Mary Elizabeth, Rosemary had three younger brothers, John, George and Charles.  
Rosemary was baptized at St. Anthony of Padua Church in Baltimore.  She attended St. Anthony of Padua School and the Institute of Notre Dame.  Rosemary entered the candidature from IND on Aug. 28, 1948.  Upon reception into the novitiate, she was given the name, Sister Mary Donna.  Rosemary professed her first vows on Aug. 4, 1951.
After teaching two years as a candidate in New Jersey, Rosemary continued to teach primary grades until 1954, when she was sent to Santiago Apostol in Fajardo, Puerto Rico as a junior high teacher.  She then taught in Pennsylvania until 1964, when she assumed duties as principal at Notre Dame Preparatory Lower School in Baltimore. Rosemary went to Rome as a trainer for the Commission for Justice and Peace in 1971.  Upon returning to Baltimore, she resumed her career in education at Archbishop Keough High School.  
Beginning in 1976, Rosemary held a variety of positions with Catholic Charities, the Campaign for Human Development, the National Pastoral Life Center and the Washington Theological Union.  She was appointed Province Treasurer for the Baltimore Province in 1993.  Rosemary completed her years of ministry as Director of Facilities and Business Manager at Notre Dame Prep School and Sisters Academy of Baltimore. After several years as a volunteer, Rosemary retired to prayer and presence at Villa Assumpta in 2014.  
Sister Rosemary's advanced education consisted of a Bachelor of Arts degree in English and Elementary Education from the College of the Sacred Heart, Santurce,  Puerto Rico in 1959 and a Master of Arts in English from Duquesne University, Pittsburgh, Pa. in 1973.
Sister Rosemary was a fiercely independent, no nonsense woman.  Because she loved and enjoyed life, Rosemary believed that you should "get on with it" and live your life.  Her sense of humor and ability to be funny made conversation with Rosemary a delight. The loves of her life included reading, travel, music, dance and art.  
Though quiet and reserved about her spiritual life, Rosemary shared generously in prayer.  She prayed for people with special needs, such as those struggling with effects of war.  She prayed that we "Love one another." Rosemary always thanked the prayer leader for the opportunity to add personal intentions.   
Rosemary enjoyed people and they liked her too.  She made deep friendships over her years as a School Sister of Notre Dame.  If you were worried about something you needed to do, Rosemary was positive and believed in you.  "Of course, you can," she would say.  A fearless driver, she once encouraged a beginning driver to "back up until you hear metal."
Rosemary was close to her family, especially her brother Jack.  She acted as surrogate mother to her nieces and always showed interest in their lives.
Sister Rosemary died peacefully at Villa Assumpta on Sept. 9, 2020. Sister Rosemary's cremains were buried on Monday, Sept. 14 at Villa Maria Cemetery, Glen Arm Rd., Glen Arm, Md.  A Memorial Mass to celebrate the life of Sister Rosemary will be held at a later date. Sister Rosemary is survived by eight nieces and nephews.  
-    Jeanne Hildenbrand SSND