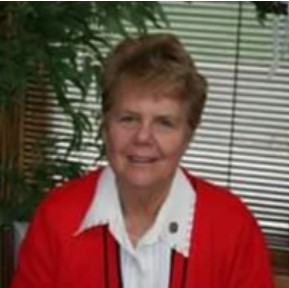 Sarah Thomas (Sally) Neale, SSND
Feb. 24, 1935 – Aug. 17, 2022
Sarah Thomas, born on February 24, 1935, was one of three children born to Leonard and Harriet Smith Neale.  Sally's spiritual life began with her Baptism at St. Mary's Church, Baltimore, MD. 
Sally attended elementary and high school at the Notre Dame of Maryland Preparatory School before entering the candidature in 1953. She was received as a novice with the name Sister Mary Erneste on July 12, 1954, and professed her first vows on July 30, 1955. 
Sally was a teacher for almost 20 years, progressing through the elementary grades to high school.  She spent several years in educational staff positions before leaving education to become a full-time nursing student. Sally earned degrees as a Licensed Practical Nurse and a Registered Nurse in Baltimore and served as a nurse in hospitals there.
In 1993, Sally moved to Tennessee, where she continued her studies and became a nurse practitioner at the Indian Mountain Clinic in Jellico, TN.  She worked at several other rural medical centers before founding and becoming Director of Sarah's Place, a resource center for women and children in Sandy Hook, Kentucky.  Sarah's Place addressed the great need of residents living on the edge of survival in the third-poorest county in Kentucky.  Sally remained at Sarah's Place as Director, Director Emeritus and Program & Marketing Coordinator until 2017.
Sally's education consisted of a Bachelor of Arts from the College of Notre Dame of Maryland (now Notre Dame of Maryland University) in 1967.  She became a Licensed Practical Nurse at the Johnston School of Nursing, Baltimore, MD, in 1981.  Sally earned a Bachelor of Science in Nursing at the College of Notre Dame of Maryland in 1990 and a Master of Science in Nursing at the University of Tennessee, Knoxville, Tenn. in 1994.
On her return to Baltimore in 2017, Sally came to Villa Assumpta for prayer and presence.  She became a resident at Stella Maris Nursing Center in March, 2022.  Sally died at Stella Maris on August 17, 2022.
The Mass of Christian Burial was celebrated in the chapel of Villa Assumpta on August 27, and interment followed at Villa Maria Cemetery, Glen Arm, MD.
Sally was an amazing woman who spent all of her life helping others. She was committed to service with skill and zeal, as she strove to be present in the hills of Kentucky.  Her strength and wisdom were an inspiration to many, especially at Sarah's Place, where she made a such huge difference to so many lives.  Kind and loving, she truly made the world a better place.
Sally is survived by her sister, Mary Clare Gahan; and nieces, Sharon Clare Gahan, Helen Shea Wyatt and Rachel Marie Gahan.  Another niece, Sally Ann Gahan, predeceased Sister Sally.
Jeanne Hildenbrand SSND