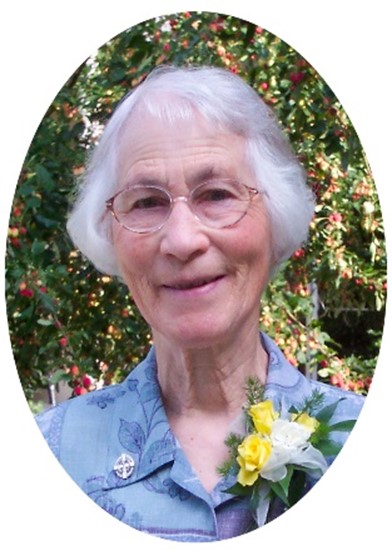 Sister Zita Merkowsky, SSND (formerly Sister Vincenta)
December 5, 1922 – August 1, 2022
Sister Zita was eager to celebrate her 100th birthday in December, however, God had other plans for her.  She passed away on August 1, 2022 at the age of 99 and in her 78th year a School Sister of Notre Dame.
Sister Zita was born on a farm near Cavell, Saskatchewan. She was the sixth child of her parents Vincent and Anna (Bittner) both of whom were born in South Russia, present day Ukraine. At the death of her mother in 1925, when she was 2 years and 9 months, her father placed her with relatives. The older children were placed in a boarding school. Zita was delighted when her father remarried four years later and the family was together again. She attended the one-room school in Cavell until Grade 8. While preparing for First Holy Communion, she stayed at the convent in Leipzig. Impressed with the Sisters, she said to herself, "I am going to be a Sister too."
For Grades 9-11 she studied on her own with correspondence courses. Sister Jerome, the superior at Leipzig, invited her to take Grade 12 at Leipzig boarding school. The year spent as a boarder convinced her of her vocation.
She entered the candidature in Waterdown in 1941.During the next two years she continued her studies and attended Hamilton Normal School. In 1943 she  became Novice Mary Vincenta and professed her vows the following year.
Her sister, Julia, entered the congregation of Our Lady of Victory Missionary Sisters (OLVM). Father John Sigstein, the founder of the congregation, was inspired by the spiritual life of the SSNDs living at Longwood Academy, Chicago. He had his first catechists living with the community and trained by them in teaching religious instruction.
Sister Zita began her teaching career at Sacred Heart School, Kitchener, and then Immaculate Conception School, Formosa. In 1953 she returned to her home province of Saskatchewan, where she taught in schools in Handel, Leipzig, and Wilkie. While at Leipzig, her principal asked her to take a typing course so that she could teach typing to Grades 9 and 10 students.  From 1972-1974 she taught at Sacred Heart School, Ladner, British Columbia.
After 30 years  as an elementary school teacher, Sister Zita continued using her teaching skills with catechetical classes for children attending public school in Kitchener, Ontario and as parish co-ordinator of weekly religion classes in Cloverdale, British Columbia. In Wilkie and Unity, Saskatchewan, she lead Bible study groups and visited the elderly and those in nursing homes. When the Bible group learned that she was leaving Wilkie, they wrote to the Provincial Leader detailing all that she did for the parish and asked that she remain. Also, the President of the Catholic Women's League (CWL) requested that another Sister replace her.
Beginning in 1985, Sister Zita was involved in the catechetical correspondence program in the Hamilton diocese until 2009. She wrote, "It is a privilege to bring the Good News of Jesus to so many students and their families."
Sister Zita was grateful for the opportunity to participate in the Credo program at Gonzaga University in Spokane, Washington in 1981 and the Wholistic Growth Resources Renewal program in Little Falls, Minnesota in 1986.  At Newman Theological College, Edmonton, Alberta she took several courses on scripture and theology.  
In recent years she had difficulty walking; however, she eagerly attended community events. She was an avid reader and was interested in world events. Sister Zita enjoyed celebrations and recalled fondly her 70th and 75th Jubilee. She was looking forward to her 100th birthday in December.
Gratitude was one of Sister Zita's outstanding qualities. The smallest favour received a heartfelt "Thank You." She wrote in 2007, "I look back on my 62 years of religious life and am deeply grateful. In spite of limitations and failings, it is a good feeling to know that, by the grace of God, I was able to be one of his instruments to lead others closer to Him."
Due to COVID-19 protocol, there were no visitors for the Mass of Christian Burial in the convent chapel, Waterdown, Ontario. The funeral liturgy on August 5 was celebrated by the chaplain, Rev. Pablito Labado. Relatives and friends were present at her interment at Gate of Heaven Cemetery, Burlington.
Zita is survived by her siblings Hedwig Wurzer, half-sisters Gloria Maguire and Diane Loewan, and half-brother, Allan.
-    By Sister Joan Helm, SSND