By Associate Helen Martinez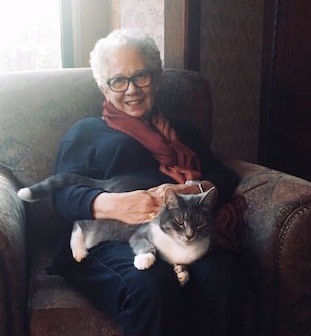 My very first connection with the SSNDs occurred when Sister Maureen Fleming directed Religious Education at Assumption Church in Westport, where my two sons attended classes.  However, a more significant encounter occurred at Caroline House, when I volunteered to teach English and Sister Maureen was director there at the time. I was deeply touched by the nurturing, respect and dedication present while educating immigrant women in English and other skills - the perfect environment in which these ladies deeply felt the Sisters' caring, dedication and protection.
Years later I was pondering what to do with myself, how and where I could volunteer and be of service to others. Through Sisters Maureen and John Vianney, and my good friend, Maggie Diviney, who was already an Associate, I visited Lourdes Health Care Center for Sisters in Wilton, Connecticut, where I felt right at home!
I truly felt guided by the Holy Spirit and God's love! I had found my very special place where I could enjoy the company of the Sisters residing there. So, I signed on to visit every week and assist Rebecca Puno when the Sisters meet to socialize and attend events. There are also special moments when I can individually visit some of the Sisters. I have been fortunate to find a Puerto Rican Sister, with whom I share news and songs of Puerto Rico!
My territory has expanded! Sister Peg Regan reached out to me, asking me if I would be interested in teaching English to immigrant women! How exciting and how wonderful to be able to do so and make new friends! We recently attended the preschool graduation of the daughter of one of our students and have also enjoyed some delicious culinary delights from Central America!
So, of course I wanted to BELONG, to somehow be part of this Order, to join in the love, dedication, charism, mission . . . to reach out, not knowing at that time how much I would also feel the love of God and the Holy Spirit! Such blessings! Thank You! I feel whole! Amen!