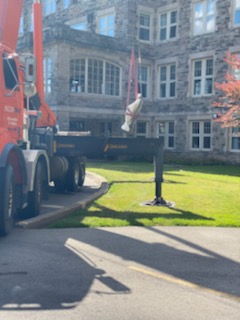 On the morning of July 12, the Sisters at Notre Dame Convent in Waterdown, Ontario Canada gathered in the chapel for a brief prayer in honor of our Blessed Mother Mary. The Sisters prayed the Memorare and sang the Salve Regina even as they heard the sounds of the crane arriving to move the statue of the Blessed Virgin Mary and the solid cement cross, which have held their place of honor high above the entrance of Notre Dame Convent for the past 95 years.
Having sold our beloved Notre Dame Convent, this moment in the history of our province was another significant loss for our Sisters, who are living the reality of these transitional times. From bedroom windows, Sisters could be seen watching as the large crane gently removed the statue and the cross from the front of their beloved home, which was sold on May 31, 2022 to Laureate College, a private, international co-ed school, mainly of Chinese culture.
The night before, the Sisters gathered to remember and watch the 80th anniversary video recording of the enactment of first days of the opening of Notre Dame Convent in 1927, which included the placement of the statue. Fond memories were shared, tears were shed, and silence filled the room as they recalled precious days. Mary had been lighting the path of so many Sisters and guests for the past 95 years.
As Mary and the cross lay on the lawn outside the convent doors awaiting transportation to their new home at Gate of Heaven Cemetery, the wind blew, the cranes quieted and silence reigned. Now Mary will stand to welcome and light the path for our Sisters who have made their final journey home to God.
Our Lady of Grace, Mother of our congregation, pray for us.