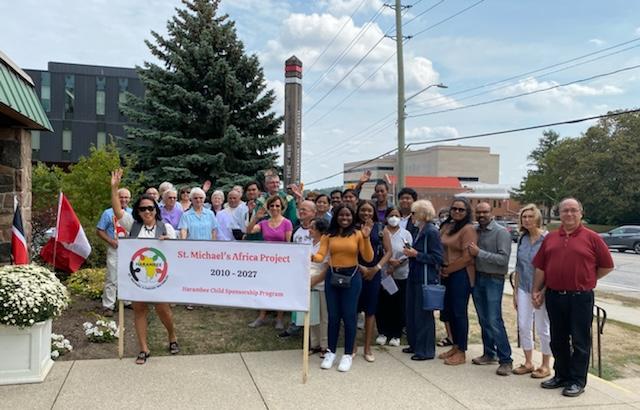 School Sisters of Notre Dame joined the St. Michael's Parish community for the celebration of the 11am Liturgy on September 25. This very socially aware parish made another five-year commitment to support Children's Outreach Program in Nyalieng'a Parish in the Homa Bay Diocese of Kenya
The School Sisters of Notre Dame began the Children's Outreach Program in Nyalieng'a Parish in the Homa Bay Diocese of Kenya in September 2009. The SSNDs selected 34 of the neediest families in the area with 119 children of different ages to start what is now called Notre Dame Children Outreach (NDCO).
Most of these children are orphans due to their parents' deaths of HIV/AIDS. SSNDs have been providing safe places for orphaned children to live with surviving relatives while taking care of their basic needs, paying their fees in the schools they attend and offering individual guidance and counselling. A helping hand is also given to guardians as needed.
St. Michael's Parish, as well as surrounding organizations and parishes, have been sponsoring many of these children throughout their school years (this year around 200) since 2010. Diane and Martin Jones have been faithful leaders in its continual support. They both have visited the Sisters and students in Nyaling'a and surrounding area.  Some of our Sisters from the Province of Africa have visited here in Canada, both at the parishes of St. Michael's and at Notre Dame in Waterdown, sharing with us the needs for education and holistic support.
A number of us School Sisters of Notre Dame (Sisters Delia Calis, Rosemary Howarth, Celeste Reinhart, Barbara Paleczny, and Vivian Zoller ) and a friend and supporter of SSND, Sharon McManus, rejoiced and gave thanks for the generous solidarity of St. Michael's Parish with the SSND Orphan Outreach in Kenya, active since 2009. A large Solidarity Pole showing the commitments stands in front of the Church facing University Avenue.
After celebrating the 11am liturgy, the Sisters surrounded the pole as the current pastor, Father Pawel Jamroz, blessed the Solidarity Pole and Sister Delia untied the ribbon as a sign of the renewed commitment.
Sister Miriam Bruder also Zoomed in as we connected briefly with Sister  Masicha Nasimiyu and Sister Nentaweh Wakger in Homa Bay, Kenya. Though the reception through Zoom was sporadic, we very much connected in joy and in solidarity, feeling our communion of spirit. We give thanks and glory for God's work through people committed to one another and to blessings and peace.
We recall with confidence the words of Mother Theresa: " All the works of God proceed slowly and in pain; but then, their roots are the sturdier and their flowering the lovelier."
Impact and Accomplishments over the years:
236 children now in the NDCO program
120 children have successfully completed their various levels of education
30 alumni now have jobs and means of livelihood