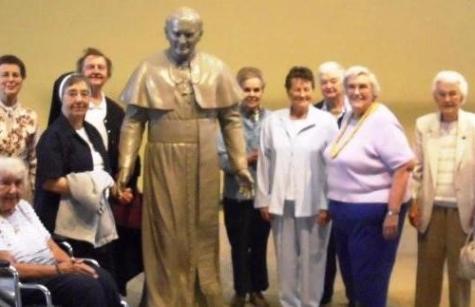 Eleven sisters from Villa Assumpta made a pilgrimage to Saint John Paul II National Shrine in Washington, D.C. on Tuesday, June 6. The shrine is a place of prayer and reflection. A guided tour of the Redemptor Hominis Church and Luminous Mysteries of the Rosary Chapel was informative and enjoyable. Sisters had an opportunity to venerate a first-class blood relic of John Paul II and participate in the 12 p.m. Mass.

The sisters walked in the footsteps of John Paul II in a magnificent exhibit that explores the major events of his life and themes of his papacy. The sisters encourage you to make a pilgrimage to St. John Paul II National Shrine should the opportunity arise.

Sisters pictured here with the life-size sculpture of St. John Paul II are from left, front row, Sisters Joannene Merendino, Theresa Mary Linz, Connie Coulter, Loretta Rosendale, Betty Sokel, and Pat Hogan. Sisters in the back row, from the left, include Sisters Theodore Baccala, Marianne Roderick, Doris Turek, Marguerite Weiler, and Charia Ripple.