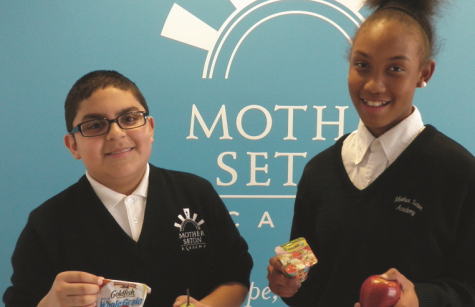 In September 2013, Sister Limétèze Pierre- Gilles, SSND joined the Mother Seton Academy family. During her time with us, she has had numerous roles, including most recently the daily coordination of our food program.
Revolution Foods
In 2012, MSA began a partnership with Revolution Foods, a leader in serving healthy meals to students in schools across the country. Thanks to the support of generous donors, MSA was able to introduce Revolution's healthy menu to our students. It consists of high-quality foods with no artificial ingredients, no high fructose corn syrup and no fried foods ― just fresh, natural ingredients, including whole grains. Every meal offers nonfat or low-fat, hormone free milk and fresh fruit, and is nutritionally balanced. Students select from a variety of healthy entrees each day for lunch, and are also served a healthy breakfast and afternoon snack.
For Sister Limeteze, coordinating the food program  has been a great experience. Each morning she inventories the food delivery to ensure that proper amounts are received, and readies items for snacks and lunch. She says she enjoys helping with the lunch program because she understands how important it is that the students have access to healthy food choices so that they are prepared to learn.
Eating healthy meals has had a positive impact on our students. Some students have said they are evaluating prospective high schools on the quality of food offered by the school. Some are also introducing healthier foods at home by suggesting alternative items to purchase at the grocery store, for example.
Students