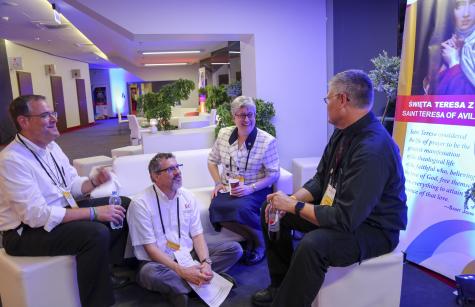 Amazement and awe are two of the words Sister Maria Iannuccillo, SSND used to describe her trip to World Youth Day (WYD) in Krakow, Poland.
Sister Maria was invited to attend World Youth Day in Poland with the National Religious Vocation Conference (NRVC), where she serves as a member of the National Board. She joined other board members and NRVC staff the Vocations Café in Mercy Arena (usually the Tauron Arena but renamed for WYD). The arena can hold 22,000 people and is the largest in Poland. Sister Maria said that one day the arena reached capacity and was filled with thousands of worshippers while more than two thousand waited outside.
"It was very, very powerful. We had people coming to the vocations café to talk about religious life and priesthood," she said. In addition to the vocations café, there was catechesis, the opportunity for the sacrament of reconciliation, concerts and Eucharistic Liturgy each day.

What was particularly moving for Sister Maria was adoration in the evening.

"We had adoration one night with 22,000 people. There was time for singing, talks, silent prayer and Benediction. The Eucharistic procession was especially moving," she said.

But it wasn't just the events going on inside the arena that Sister Maria found so moving. Each evening she and the others from the National Religious Vocation Conference ventured out into the city. She was taken aback by the hundreds, if not thousands, of young people flooding the streets of Krakow. Each young person was filled with the love of Christ.

"Everyone was there for World Youth Day and they were all peaceful, happy, singing, and praying." She said. "One day we came upon a statue in the center square in Krakow and there were WYD pilgrims from many countries all around the statue, and on the statue just sitting there and singing, waving their flags."

The feelings of peacefulness and hope are something Sister Maria hopes every World Youth Day participant has been able to take back to their home countries.