This is the second of The Catholic Climate Movements four webinars to take place during the Season of Creation. We will hear from leaders across the African continent about the morality of investing in the fossil fuel industry and the work to ensure clean energy for a more life-giving future. 
This webinar will be held in English and simultaneously interpreted to French, Spanish, Italian, Polish and Portuguese, all for free.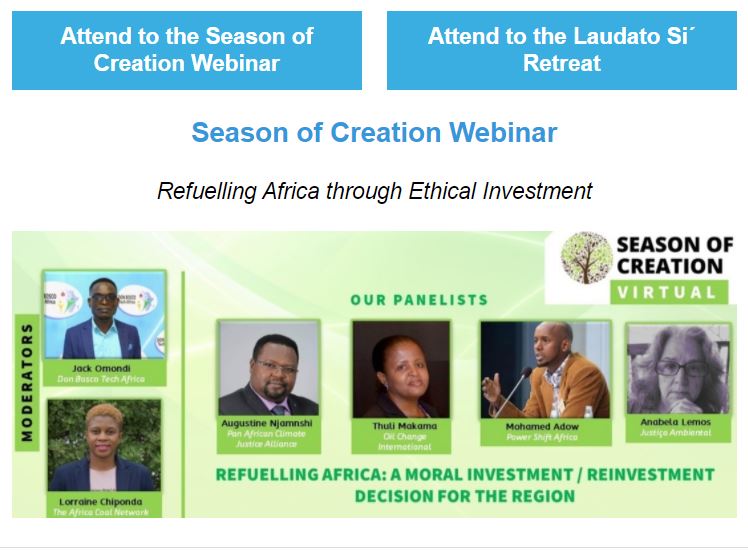 Webinar
What: Webinar: Refuelling Africa through Ethical Investment
When: Thursday 10 September
Time: 9:00 New York / 15:00 Rome / 16:00 Nairobi / 21:00 Manila
Register to attend or to receive the recording of the global Season of Creation webinar.
Laudato Si' Retreat
An Introductory Immersion
"The ecological crisis is a summons to profound interior conversion... an 'ecological conversion.'" (LS 217)
During this inspiring retreat, we'll embark on a Spirit-nourishing journey of "ecological conversion" to transform the way we relate to our Creator, all of creation, and our most vulnerable sisters and brothers.
We will experience three moments inspired by Laudato Si': hearing creation's song, hearing creation's cry, and answering creation's call.
The retreat will be led by:
Tomás Insua, Co-Founder and Executive Director of Global Catholic Climate Movement
Christina Leaño, Associate Director of Global Catholic Climate Movement
Angélica Gonzalez-Apple, Program Manager North America, Global Catholic Climate Movement
What: Laudato Si' Retreat: An Introductory Immersion
When: Saturday 12 September
Time: 9:00-13:00 New York / 15:00-19:00 Rome / 16:00-20:00 Nairobi / 21:00-1:00 Manila