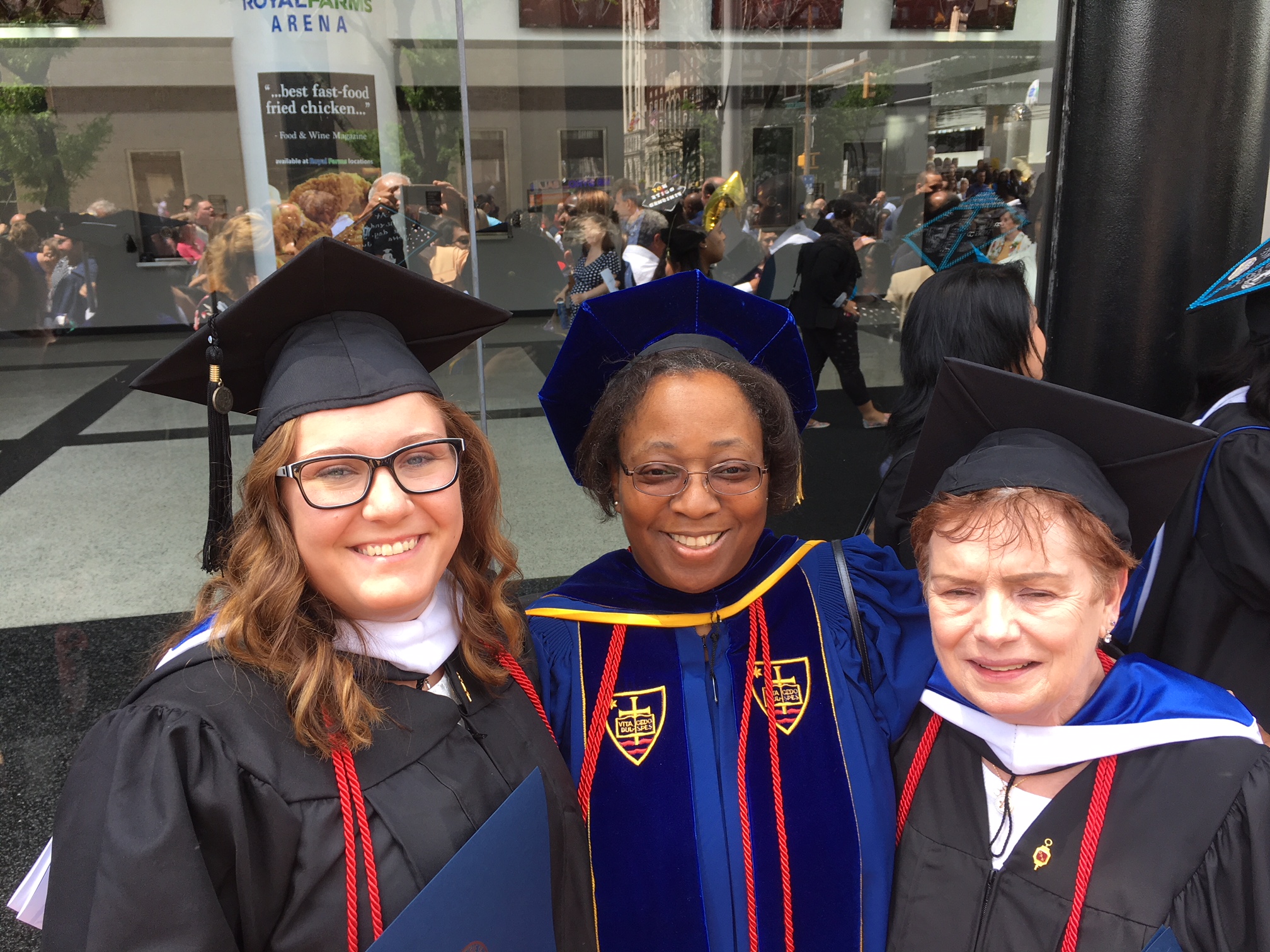 Lovingly, I caress the seven words, "She believed she could, so she did," for at least the thousandth time. It is a comforting mantra engraved into a silver bracelet given to me by my daughter to honor my 30-year journey at Notre Dame of Maryland University. In the Fall of 2016, after an eight-year hiatus, and with a grant to complete the remaining 22 credits for a bachelor's degree, I returned to class in the Spring of 2017 and never looked back.  I was "home" again!
At the very beginning of my college experience in 1988, I was a Registered Nurse employed part-time, a mother of a two-year old daughter, Kerry, and an eternally restless dreamer.  Admittedly, I had my hands full, but there was something else out there I just had to discover. I also knew I had to teach my child that women and girls could do anything they dreamed of and put their work, energy and passion into. So I enrolled in Notre Dame's non-credit course, "Developing New Horizons for Women," which met weekly in Fourier Hall. How prophetic the title.  
Little did I know then that life events would intervene and delay my quest for a Bachelor of Arts degree in Religious Studies - at first, just by four years. Beginning again and embracing just one class at a time, I put everything I had into getting my degree - including my entire pay check! I forged ahead, always returning to college, my "home," after one disruption or another, one health issue or another, and sometimes alternating years to help put my daughter through school.
She could. I cherished my classes - one at a time, one semester at a time - missing a few years in between – but I put my love and energy into each and every one.  I reached for those "A's."  And, slowly but surely, three decades later, I did it! I graduated this summer, summa cum laude, receiving the 2018 Religious Studies Achievement Award.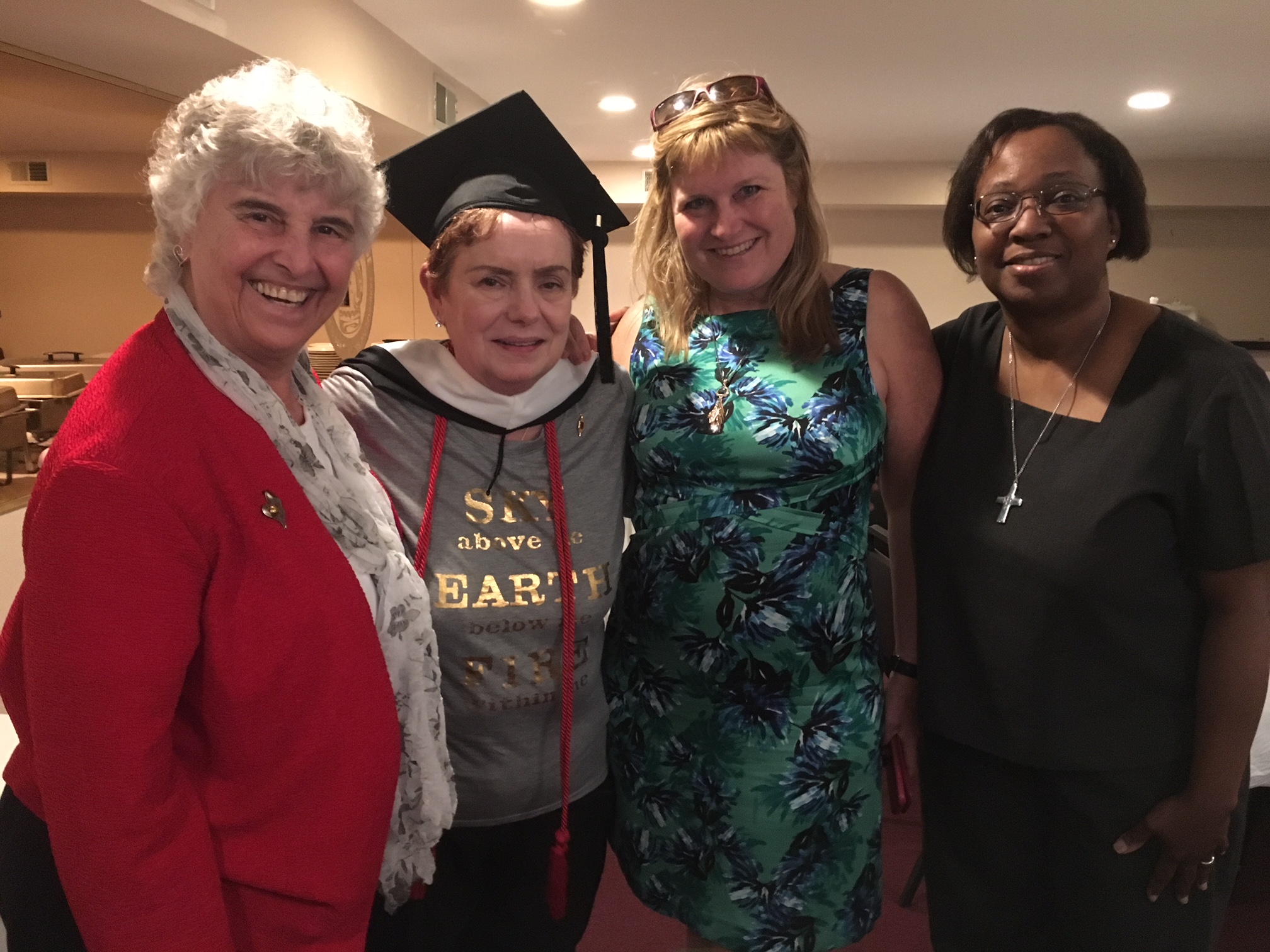 As I worked toward my degree, I watched my daughter's love for education grow. We joked that she would obtain her Ph.D. before I received my B.A.  And, very proudly, I can say, she did! At age 28, nine-months pregnant while defending her dissertation, Kerry earned a Ph.D. in Political Science from George Washington University, with a focus on international studies and gender equality issues. She teaches at James Madison University, has authored two books, and is now working on her third while tending to her four-year old son and newborn twin daughters. Whew!
It was only a few years ago that this fierce woman told me that attending Sister Sharon Kanis' classes with me sparked the inspiration to embrace academia as her passion and her career. "The teacher is there when the student is ready." Little did I realize the incredible impact taking my child to a few Saturday morning classes would have on the rest of her life.  My teacher, mentor and advisor, Sister Sharon, should be proud!  I'll always remember Sister Sharon's humility, passion and extensive knowledge for the subject she was teaching, as well as her admonition to me: "Be good to yourself." I'm trying!
Looking back, I can say that the most profound experiences of my college "career" were my relationships with my professors, whom I consider dear friends - Sister Sharon Kanis entered my life in the 1990s when I began enrolling in many of her courses for my Religious Studies major. Then there was Dr. James LaCroce, Dr. Anne Henderson, Sister LaReine Mosely, Sister Margaret Mahoney, Sister Eileen Eppig, and Dr. Brian Berry.
So she did. Thirty years full of loss, joy, living and learning have flown by. I proudly wore my daughter's undergraduate gown at my NDMU Commencement.
May 20, 2018 remains in my heart and soul as one of the peak experiences of six decades of life. I am still riding the waves of joy and cannot adequately express the feelings I experienced while walking into the graduation ceremony seeing family, friends and, especially, my beloved professors.
I recently talked with my daughter about how I could repay the Sisters and the College of Notre Dame - as I will always affectionately remember it, for it was home from beginning to end - for the amazing gift they gave me – believing in my dreams. My professor/daughter exclaimed, "Use what you have learned."