By Sister Barbara Brumleve, SSND, Mission Integration, Notre Dame Prepetory School (NDP), Baltimore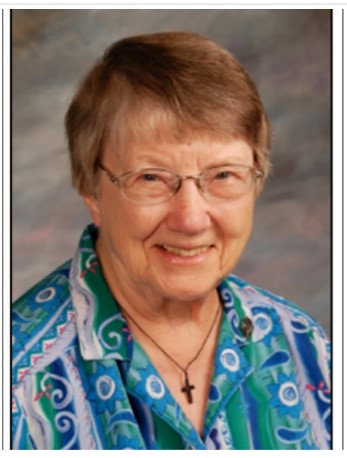 On March 30, 2019, Sister Alice Zachmann, SSND (Central Pacific Province) will be honored in Washington, DC, as one of 12 "Visionary Women: Champions of Peace and Nonviolence." The National Women's History Alliance has been recognizing women for the past 38 years. Sister Alice and this year's 11 other honorees have made exceptional efforts to end war, violence, and injustice and have pioneered efforts in the use of nonviolence to change society.
Sister Alice was born and raised in St. Michael, Minnesota (pop. 17,000), the third of seven children. In 1946, at age 20, she was drawn to the School Sisters of Notre Dame, and for 33 years she taught in elementary schools of Minnesota and Iowa. "Even while I was teaching, I was already doing some of the political work," she recalled. "I was supportive of the United Farmworkers…and then I also was supportive of ending the Vietnam War."
Sister Alice had met missionaries returning from Guatemala, as well as Guatemalans who had fled that country's civil war. After hearing the stories of torture and violence, and visiting Guatemala herself, she was ready to make human rights her main ministry. She moved to Washington D.C., where she later started the non-profit Guatemalan Human Rights Commission USA, which continues today. Over the next 20 years, Sister Alice worked long hours, sometimes sleeping in the office if there was an emergency, and alerting lawmakers, news media and other advocates to events in Guatemala.  
She says that her dedication to human rights work included moments of second-guessing herself: "How much of this do I really want to put my energy into? How do I want to live? What do I need and what do I want?  It's a task. I can't force it onto anybody else. But I can personally do something about it."  
In 2010, Sister Alice decided that it was time to return home to Minnesota. Today she lives in community with her SSND sisters. Now in her 90s, she continues to be a woman transforming the world. She advocates for affordable housing in Mankato, writes "urgent actions" to lawmakers, and holds weekly prayer vigils downtown. "The time will come," she says, "when I won't be able to work.  That will be difficult, but I can always pray. I always just live, pretty much saying, 'Give me this day and then we'll see what happens next'."  
Several SSNDs and representatives from SSND-sponsored institutions — including NDP — will celebrate with Sister Alice on March 30. The hope is that NDP students will have an opportunity to have a Skype conversation with her sometime in April.