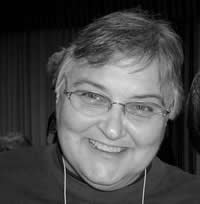 Sister Caritas Wehrman, SSND teaches Conversational English at St. Therese Catholic Mission Church in Chicago
The students are Cantonese or Mandarin speakers who have had a little bit of English instruction. By finding out their areas of interest as well as their strengths and weaknesses, S. Caritas is able to facilitate their ability to communicate in English. Many of the students hope to further their education or wish to communicate better at work.
There have been occasions when S. Caritas has tutored individual sisters and priests who need help with English as they study at local universities. This is in addition to her teaching sisters and priests at DePaul University what she calls basic survival skills.

This experience has been challenging for S. Caritas but also rewarding as she sees the progress students make. An added benefit for her is learning about the individual students, their countries of origin and their culture. She has also learned a few Chinese words in the process.