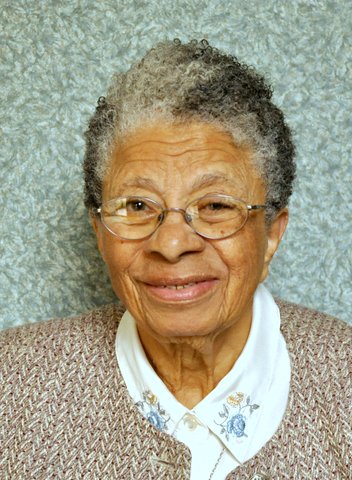 Sister Elizabeth Rosser SSND
May 6, 1926 – March 15, 2020
It was a spring day, May 6, when Elizabeth, the first child of Oscar and Pauline Lockhart Rosser, was born in Glen Ridge, N.J.  Her brother, Arnold, was born a year later but died as an infant.  Betty always regretted that she never got to know her brother.
In her autobiography, Betty spoke of her childhood in the small rural town of Belleville, when New Jersey was truly the "Garden State."  She remembered the dairy farm across the road and the animals: the ducks, chickens and rabbits who were her "playmates."  These early years were "quiet and serene" but short-lived. Betty's parents divorced, and her father died a few years later.  She said that "the one thing that remained constant was my mother's love and companionship.  We became best friends during that time."
Though Betty left school in her junior year of high school to help with family support, she was determined to finish and enrolled in evening classes to receive her high school equivalency.  Her mother's remarriage when Betty was in her early twenties, "changed the whole course" of her life.  Thomas Kirkbright was a Catholic, and Pauline became a Catholic, too. The parish priest, Fr. Francis Ignacuinos, who invited Betty to come and talk, later became her "spiritual director and companion on her journey."
For two wonderful years, Betty became more and more involved in parish activities and teaching religious education.  She said, "It was then that I realized that God was calling me, not only to the Catholic faith, but also to religious life." She began searching for a religious congregation with the help of Father Francis.  
"What a shock I received!"  She was not invited to join the Sisters in her parish, although they took her to visit all-Black congregations.  Other congregations also refused her on the basis of race.  When her mother said, "Where is your faith?" Betty took courage and continued to search.
Finally, Betty was welcomed to the Corpus Christi Carmelites in Newport, R.I.  She became Sister Mary Regina O. Carm., professing her first vows on Feb. 11, 1960.  She was "happy and determined to see where this journey Jesus had invited me on was leading."
After Vatican II, there were devastating effects on some congregations, and Betty's was one of them.  An Apostolic Investigation was ordered, and she knew that she must leave or "risk losing all that was dear to me."  
While working in the Philadelphia Archdiocesan Religious Education office with Sister Stella Marko, SSND, Betty chose to honor her commitment while living with the SSND community at St. Peter's convent.  She was again struggling to find a new home when her mother said, "Sometimes we fail to see what is right in front of us."  Betty had an understanding then of "what God had in mind for the next step of her journey."  Sister Elizabeth Rosser transferred to the School Sisters of Notre Dame on May 22, 1976.
In her first years as an SSND, Betty engaged in various ministries in Maryland, New Jersey and Pennsylvania.  She worked in religious education, pastoral ministry, evangelization and as the director of a children's residence.
Betty's next call was predicted by her father when she was a young child of five or siz.  He had said, "Someday, my little African princess, you will go to Africa."  In October 1995, Betty was missioned to Ikot Etuk Udo, Nigeria, West Africa.  There she taught pre-school before moving to Akwa Ibom State, Nigeria as a teacher and Director of Affiliates and Postulants.  Her final years in Nigeria were spent in Jos, Plateau State as the Affiliate Director.
Returning to Baltimore and Villa Assumpta in 2010, Betty became part of the volunteer ministry.  Her quiet demeanor and lovely smile quickly made her presence a welcome addition to the Villa Assumpta community.  Looking back on her life, Betty said, "I truly believe that God had special plans for me and was leading me on a journey that would bring me closer to Him.  All my life I had been searching for stronger ties to Him."
Sister Elizabeth Rosser died peacefully on March 15, 2020 at Villa Assumpta. The funeral liturgy, celebrated by Rev. Charles Borges S. J. of Loyola University, was held on March 19 in the chapel of Villa Assumpta.  Interment followed at Villa Maria Cemetery, Glen Arm Rd., Glen Arm, Md.
-    Jeanne Hildenbrand SSND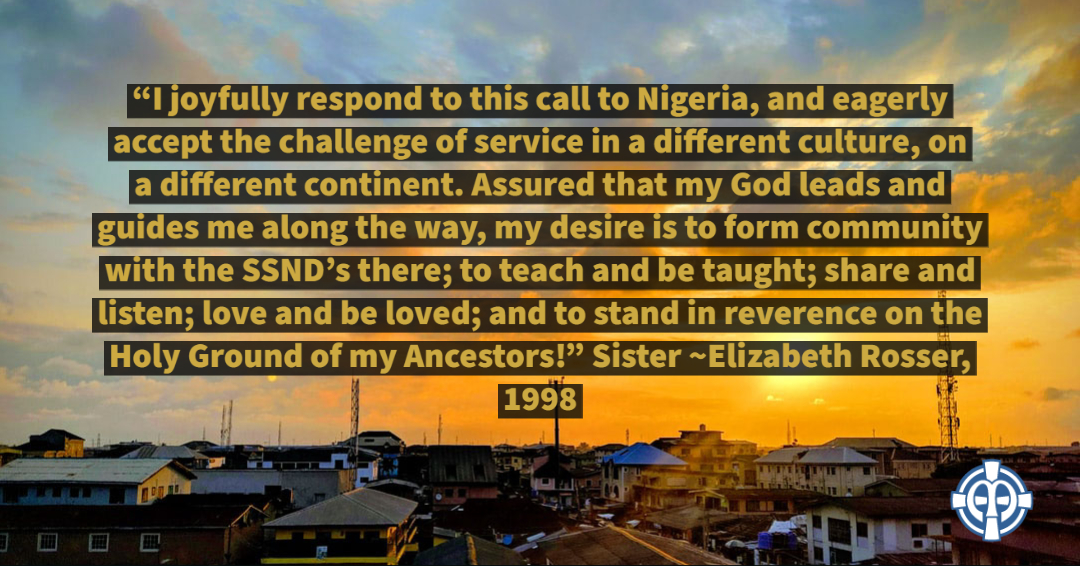 Watch Sister Betty's funeral below