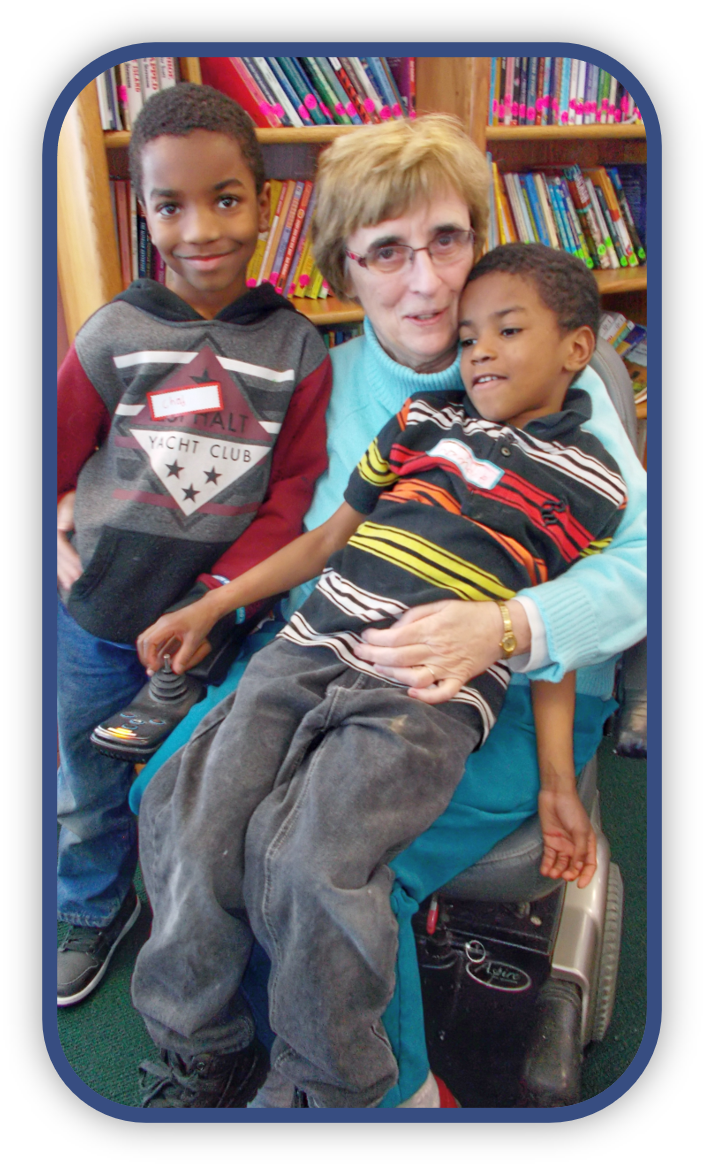 Leading the Notre Dame Learning Center Fulfills Passion for Education
 
Notre Dame Learning Center in Rochester N.Y. has been lovingly called one of SSND's "little engine that could" ministries, and operating - even in pre-COVID times - takes dedication, a passion for education, and loving-kindness for both its students and volunteers. No one possesses these qualities more than Sister Evelyn Breslin. Sister Evelyn has been the NDLC executive director of the center since 2015 after having served as a teacher and administrator in the Rochester Community for more than 50 years. In 2018, she was responsible for opening a second NDLC site at Bishop Kearney High school.
 
Sister Evelyn has been recognized as one of four finalists in the local Rochester television station WROC 2021 Remarkable Women contest. Sister Evelyn was one of more than 65 nominees. The Remarkable Women event is driven by WROC owner Nexstar Broadcasting and the contest is nationwide among all Nexstar-owned television stations.
For Sister Evelyn, the recognition is more about NDLC than it is about herself. When speaking about the contest she immediately said the press will be great for the Center which is currently tutoring more than 20 fourth, fifth, and sixth graders with 14 volunteers (remotely working) from throughout the city. When the center is running at full capacity it hosts 60 students and 40 tutors, many of them former teachers and well versed in math and English Language Arts. Even before the contest winner is announced she has plans to utilize the good press to approach donors and recruit volunteers and students.
As COVID-19 disrupted the activities of the center, Sister Evelyn, who is no stranger to adversity having been diagnosed with MS more than 40 years ago and is reliant on a motorized wheelchair for mobility, was quick to adjust and keep activities going. Even today she is more focused on what she needs to do to open the doors of the center than on the possibility of national recognition of her work.
Knowing that her determination alone will not keep the doors of NDLC open, Sister Evelyn relies heavily on her prayer life and relationship to God to keep her grounded and focused on the work at hand. Although times are difficult, and she misses in-person services and Mass, she said she is focused on getting the reading materials and sanitizer she needs to operate safely while at the same time thinking about having to hire someone for the position of Reading Program Coordinator.
 
Sister Evelyn was quick to point out that being an SSND has prepared her for her current position more than anything else out there. Having been educated by SSNDs in her native Malden Massachusetts and joining the congregation in 1965, being surrounded and supported by educators has sustained her throughout her career; first, at the former St. Joseph's Business School on Franklin Street, then at Bishop Kearney High School as a teacher and administrator for more than 22 years. Then in 1994, Sister Evelyn began working as an executive assistant with Sister Seraphine Herbst, SSJ at the School of the Holy Childhood.
Sister Evelyn also credits the mentorship and support of Sister Lorraine Burns who founded NDLC in 2004. Even today at age 90, Sister Lorraine still offers her support to both Sister Evelyn and the NDLC as a member of its board of directors. Prior to her post as executive director, Sister Evelyn supported NDLC in many of its fundraising efforts.
According to television personality Maureen McGuire, who is an alumna of Bishop Kearney High School during Sister Evelyn's tenure, and informed Sister Evelyn of being a finalist, shared that the goal of the contest "is to tell the stories of women in our communities who inspire, lead and forge the way for other women. The campaign will kick off officially on March 8th to coincide with International Women's Day." Then, on April 1, the station will name the winner in Rochester, via a half-hour special at 5:30 p.m. featuring the stories of each finalist. The winner of the contest will be featured in a national special to air on WGN-TV out of Chicago.
In addition to being an SSND, Sister Evelyn is a member of the Atlantic-Midwest Provincial Assembly and Chairperson for the Governance Committee of that Assembly.