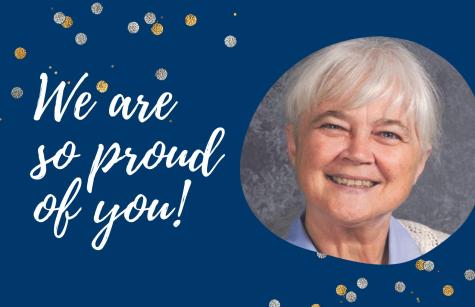 Congratulations to Sister Mary Ann Urch on a Lifetime Achievement Award for Outstanding Ministry in Catholic Education and Liturgy from Saint Joseph Catholic Church in St. Petersburg, Florida.
Sister Mary Ann has spent the last 15 years serving the children and families of Sacred Heart Academy in Pinellas Park, FL, where she teaches religion, math, science, social studies and language arts. She attends St. Joseph's regularly with her brother Tom. She also volunteers as a Eucharistic Minister, Altar Server and Sacristan at the church.
When asked about St. Joseph Church, Sister Mary Ann described it as a mustard seed, "small but mighty in the Lord." She said she believes St. Joseph is a welcoming, accepting church demonstrating reverence to the "Great Faith," and she prays for the growth of the parish as they celebrate their 100th year. She believes that St. Joseph is a beacon of hope in the community and encouraged them to "not be discouraged by the small congregation that we are but let our light shine, and God will bring growth."