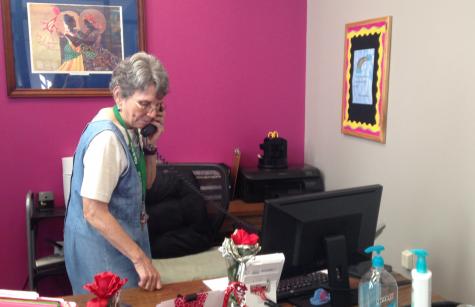 When she walks the halls of the Institute of Notre Dame (IND), Sister Patricia Murphy feels right at home. That's because she first stepped into IND's building in 1958.
"I had School Sisters in elementary school and had two siblings already at IND," she said. "I never thought to attend another school. I knew it was a great school."       
She's not a student anymore but she still spends her days on IND's campus. Sister Patricia now helps other women realize their passion at the Caroline Center, a workforce development center-located in what used to be the convent of IND.
"As a student I never saw the part of the building the Caroline Center is in because at that time it was the convent," she said. "No student ever walked into the convent; it was always very mysterious. We knew when we went to chapel that the door at the top of the steps went right into the convent but we never pushed through that door."

But once she pushed through the door and entered the Caroline Center two years ago, she knew she was in the right place. For 20 years women have been coming to the Caroline Center, most recently they've received training to become certified nursing assistants and pharmacy technicians.

"We're doing what we can to educate our women so their lives and their world will be transformed," Sister Patricia said. "I think it really gives the women a new lease on life. It empowers them. We're not training them for a job; we're training them for a career."

More than 2,000 women have gone through various programs at the Caroline Center since its founding in 1996. Sister Patricia was a part of the committee that helped get the center up and running. The focus for the students is changing their lives through job training and education. Sister Patricia says many of the women who come through the Caroline Center have never had someone believe in them as much as the Caroline Center team does. She says that support is very empowering. The Caroline Center does everything they can to remove any barriers that would limit their success, including tuition costs.

The more than $4,000 dollar tuition is waived for all of the women and the Caroline Center makes up the costs through government grants, private foundations, individual donors, and support from the School Sisters of Notre Dame.

"A lot of these women come from places of trauma or live in traumatic situations and we try to remove as many barriers to employment as we can and provide as much support as we can," Sister Patricia said. "They're here 15 weeks for the program but they're members for life."

That passion for helping others was sparked in Sister Patricia more than 50 years ago when she enrolled at Institute of Notre Dame.

"One of my best experiences that I had ever year at IND was during Christmastime. The Catholic student's mission crusade went to Bryantown in southern Maryland," she said. "At that time, it was a segregated school for African Americans. We brought gifts and then we had lunch with the students. It was a wonderful experience."

While she enjoys looking back, Sister Patricia is focused on the future and what the Caroline Center hopes to accomplish. In January of 2016 the Caroline Center was able to expand to West Baltimore. Caroline Center at Gibbons Commons currently supports 22 women during each 15-week session. But the Caroline Center team is hoping to grow in upcoming years.

"For me it's a dream come true really. I've done many things in education but for me it's where I can live the SSND charism," Sister Patricia said. "We're working with women, helping the city, educating people, and it helps me pull together a lot of aspects in my life."