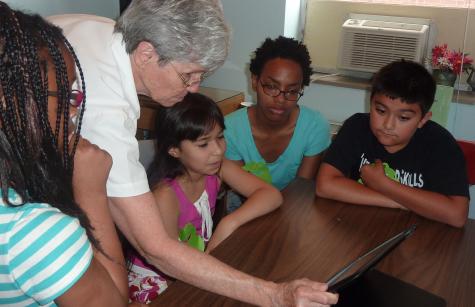 A reflection from Sister Cathy Bonfield on her recent experience with Hurricane Irma:
As a native Floridian, I have plenty of experience with hurricanes. Since I live in a safe concrete block building in a non-evacuation zone, I decided to prepare and stay at home. A teacher from school who had to evacuate came and stayed with me for a few days. After I checked on my neighbors, I bunkered down and waited for the onslaught of Irma.
Life is slowly returning to "normal" in Sarasota. Many people are still without power. We have lots of downed trees and debris --- but we are in much better shape than those in areas south of us. Wednesday afternoon we served a hot supper to people living near our school who are still without power and then shared many meals with the Salvation Army. People were grateful for a cool place, hot food, and a place to charge their electronics. On Friday, teachers / staff will return to school and get ready for students to return on Monday. We had to prepare our classrooms for possible evacuees. We did house a number of staff families at school, but since there were plenty of shelters in the area, it wasn't necessary to open to the public. I am sure that our school staff, students, and parents will continue to find ways to help those in need.
Thank you for your prayers and support! Please continue to pray for those who are suffering the devastation from Hurricane Irma, especially the elderly, poor, and farm workers.
Sister Cathy Bonfield, SSND
Teacher - St. Martha School, Sarasota, Florida