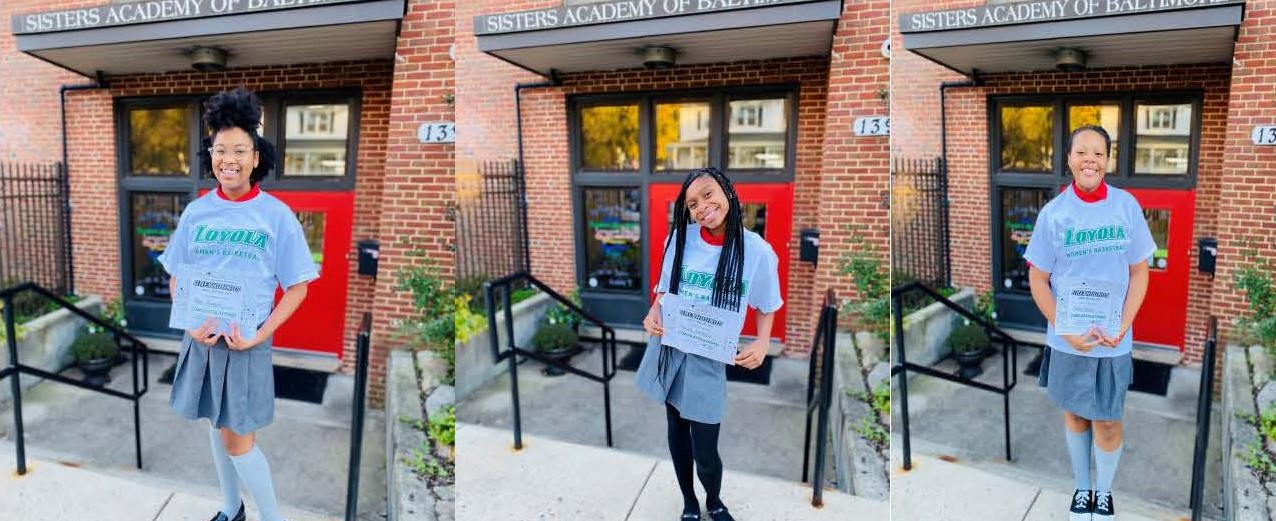 Three students from Sisters Academy of Baltimore recently snagged the top three spots in a middle school essay contest at Loyola University in Baltimore. First place was Khali Howard; second place was Aaliyah Matthews; and third place was Dalon Hanks (pictured from right to left above). We congratulate them on this success!
Here are direct quotes from their essays, which answered the question "How can we make the world a better place?"
Khali: "We, as a human race, can help the environment by changing our use of products that hurt the world around us. The environment isn't the only problem with the world though; inequality is also a big issue. It deeply bothers me that people are automatically threatened because of the color of their skin. People can change this by keeping a mindset of everyone being equal."
Aaliyah: "Love saves. Love guides. Love protects. Love is one of the strongest forces among humans. We, as in us all, can love. Think of it like the domino effect. No division, no hate, no inequality, no disrespect, no unhappiness all the time. Just peace. Peace and love on earth."
Dalon: "Kindness can make the world a better place. Kindness is a simple thing, it just takes love, courage, wisdom, and friendship. People often think to make a difference you have to be a certain age, but you can start anytime, anywhere just by smiling. When a smile gets passed around it spreads for miles. Put on a smile and brighten someone's day!"