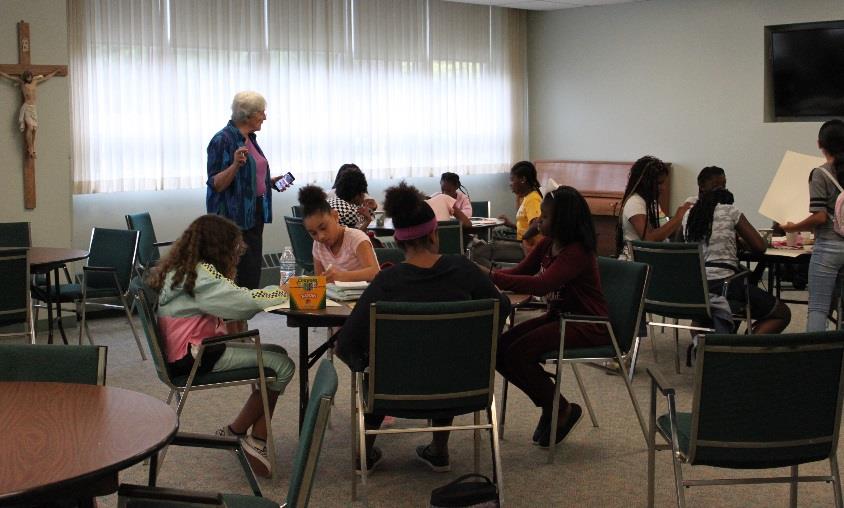 Fifteen sixth-grade students from Sisters Academy of Baltimore, led by President Sister Delia Dowling, SSND, shared an afternoon with Sisters at Villa Assumpta this week. During their summer session for enrichment, the girls take time to learn about the mission and ministry of the four sponsoring congregations of their tuition-free school and to meet some of the Sisters from each community. Sisters of Mercy of the Americas, Sisters of Bon Secours, Sisters of Notre Dame de Namur, and the School Sisters of Notre Dame combined efforts in 2004 and established Sisters Academy, which educates girls who would not otherwise have access to an engaging and challenging middle-school education.
In preparation for the visit, the students created a list of interview questions for the one-on-one interviews they would have with Sisters. They also created colorful tissue paper flowers in hopes of "spreading joy!"
The students arrived in their colorful summer attire, and after a brief welcome and introductions, the girls went to the chapel for prayer and a tour of the chapel and the Heritage Room. Then the sixth-graders found comfortable places to sit with their assigned Sisters, and with an interest to get to know them, delved deep into conversation. "Was it difficult to decide to become a nun?" "What is the most difficult thing about being a nun?" "What do nuns do?" were just a few of the questions the students posed.
Following 40 minutes of engaged conversation, the girls created posters reflecting what they had learned. Andrea, who is from Honduras, was able to speak her native language with Sister Natividad. She didn't know that Sisters "had to change their names" and discovered, "moving from place to place was the hardest thing about being a nun" for some. Victoria discovered that "all of the sisters' jobs evolved from wanting to help people." Desire learned that some sisters enjoyed traveling and ministering in different states. She also found out that Sister Laurentilla was among the first woman chaplains in healthcare from the former Baltimore Province. Samauri found out that Sister Stacy's favorite number was four, because it was the fourth of the month that her brother was born. When asked what she liked most about Sisters Academy, Samauri said, "It's more challenging and my mom went there – she was in the first class."
Following lunch in the courtyard, the students gathered the flowers they had made and went up to visit sisters in Maria Health Care Center, their ebullient spirits spreading joy to all they encountered. Before the students left, they stopped in the dining room to say thank you and good-bye. Sisters showered the girls in their love as they sang their blessing over them.