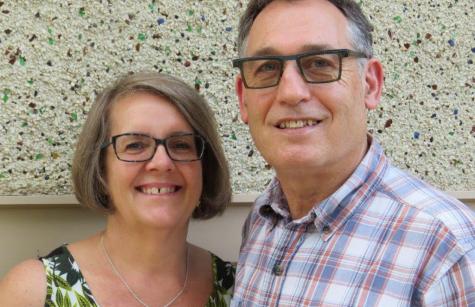 Carol and Bruce Sheldon
Regina, Saskatchewan
Associates since 1997

"The Sisters strive for unity and peace and that touches us quite deeply."
     -Carol Sheldon
Carol and Bruce Sheldon's journey with SSND began in 1993 when they were encouraged by Sister Harriet Schnurr to join the Lay Ministry Formation program. Then In 1997 the couple was looking for more spiritual support in their lives and Sister Harriet invited them to join the Associate program.

"We were impressed with how the sisters were filled with joy and were so happy. We felt unconditional love," Carol said.

Monthly, Carol and Bruce meet with other associates who live near them in Regina, Saskatchewan. "For us, being an associate is being with people who want to make changes in the world and make it a more loving and just place to live," Carol said. "The sisters give us a different perspective and we see the way the sisters are living. That rubs off on us, too. The sisters strive for unity and peace and that touches us quite deeply," she said.

Associates are men and women who live the SSND charism. They serve in drop-in shelters and soup kitchens and help address other needs of the homeless. Some serve on committees that further the work of the province's commitments on Haiti, immigration, water, and human trafficking and, in doing so, join the efforts of our sisters to transform the world through education.

Associates are driving efforts in their local communities in Canada and the United States in appealing to law makers to make the world a safer place for all. They collect clothing, books, and whatever is needed. They tutor, teach, direct, and advise to ensure that each person has the opportunity to become all God created him or her to be.