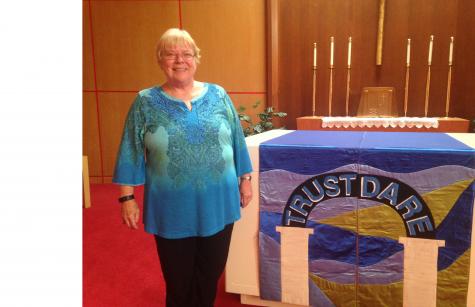 Marge Potter's first introduction to the charism of the School Sisters of Notre Dame was when she entered first grade at St. Matthew's School in Baltimore and then later when she enrolled at Notre Dame Prep as a high school student.
"Everyone has really been blessed by what the SSNDs do for people in terms of making them value education," she said. "I am the first woman in my family to get a master's degree."       
That focus on education led Marge to a career in schools and eventually back to Notre Dame Prep as a Learning Resource Specialist. At Notre Dame Prep she reconnected with the sisters and became an Associate in 2012.
Marge credits Sister Kathy Jager with encouraging her to explore the Associate relationship.

"The sisters are lovely woman who really are passionate. My passion is education and I want to do my best to serve well," she said. "I always hear the SSNDs talking about service and doing things for others, and they always see outside of themselves. That's fallen on to me because I see myself as wanting to serve too."

Her service as an Associate includes sharing the charism of the School Sisters of Notre Dame with the young women at Notre Dame Prep and supporting them on their educational journey. She has also incorporated the charism of SSND intro her personal relationships, like "NDP date night" with her husband.

"Both of us participate in Dinner for the Elderly and we take tickets for plays, we try to support the mission of Notre Dame together," she said.

For Marge, it is very meaningful that she and her husband are able to serve the school she once attended and now works at.

"This whole idea of being part of a larger community is incredible," she said. "For me, the whole focus is to keep the charism and gift moving forward so it's here for generations to come."