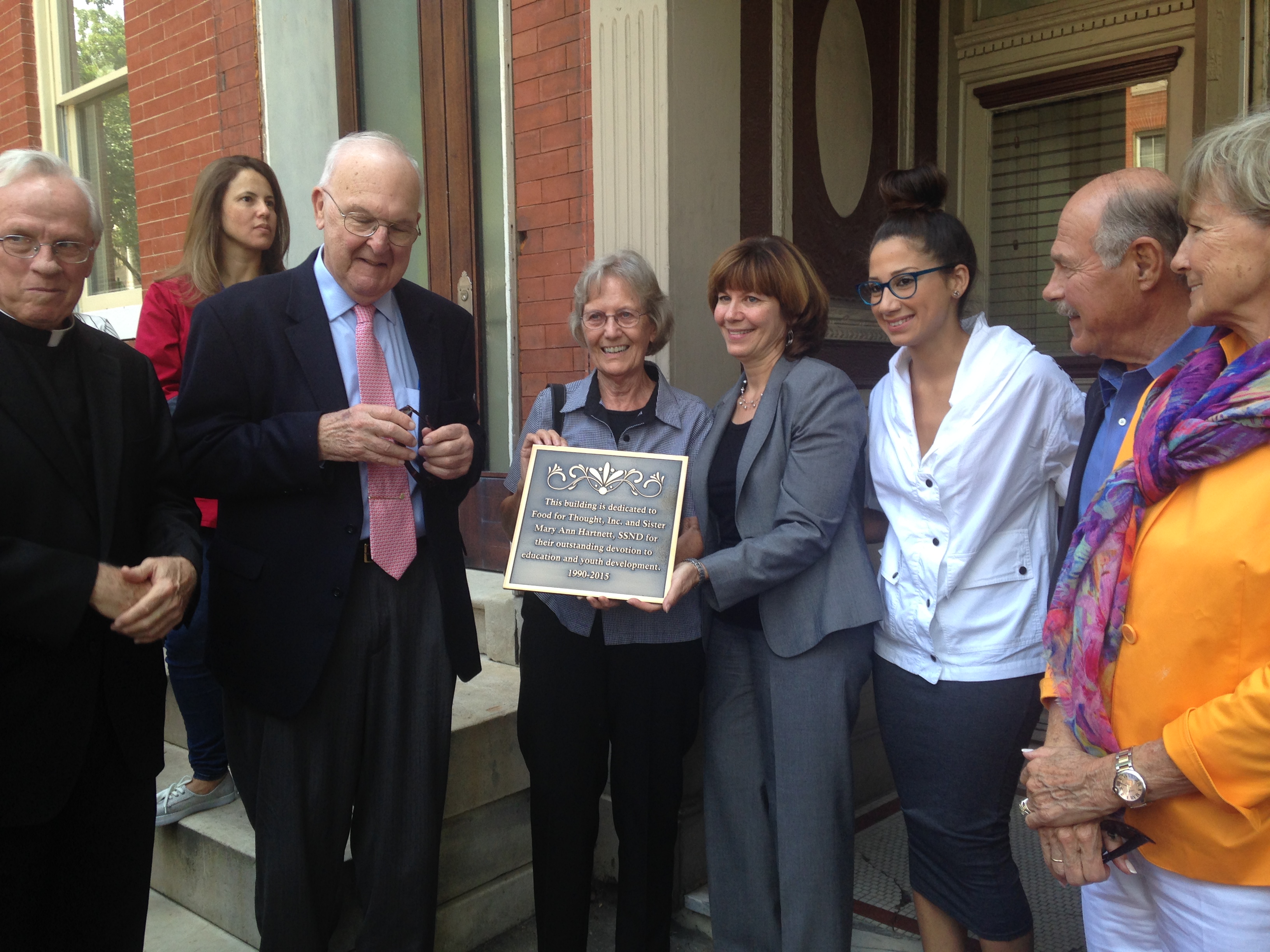 More than 25 years ago, Sister Mary Ann Hartnett stepped into a narrow row house on Baltimore Street in Upper Fell's Point in Baltimore. In that unassuming building she helped begin Food for Thought, a tutoring and afterschool learning program that quickly transformed the lives of the children that walked through its front doors.
"I didn't want to be a babysitting service," Sister Mary Ann said. "We wanted to make some kind of a substantive difference in the educational lives of these kids."       
The Food for Thought team brought in tutors and teachers to help the kids with their homework and gave them a safe place to play and be kids.
The kids would arrive after school and I wanted all of the kids to interact with each other so I got rid of all the computers," Sister Mary said. "The first half hour in the afternoon the kids would play, really play. They played Monopoly, chess, checkers, drew pictures, and the kids would put on plays."

Then the children received homework help to bring out the natural abilities the children already had. Sister Mary Ann said the children flourished when they received individualized help and attention at Food for Thought. And she's even kept in touch with many of the young people who have gone through Food for Thought.

"I'm going to a baptism soon and the mother of the baby is a woman I first met when she was a child at Food for Thought," she said. "She was among the first group to come here. When she graduated from 8th grade I was able to help her get into Notre Dame Prep on a full scholarship and then she went to Notre Dame of Maryland University on a full scholarship."

Food for Thought has since moved on from their space on Baltimore Avenue. But Sister Mary Ann and the organization's board knew the spirit of Food for Thought and the School Sisters of Notre Dame should live on with the next group in the building.

The new owners of the space, Catholic Charities Esperenza Center perfectly fit the bill.

On Thursday September 15, 2016 Esperenza 2 opened. The center will reunifying families involved in the immigration process and assist human trafficking victims.

But Sister Mary Ann Hartnett and her spirit will still be present. At the dedication ceremony for the space on Sept. 15th Catholic Charities had a special surprise for Sister Mary. She was presented with a plaque dedicating the building to her and recognizing her years of hard work with Food for Thought.