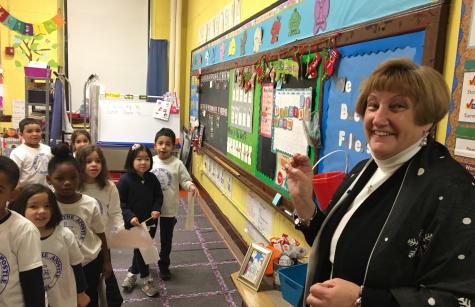 St. Peter the Apostle School in Philadelphia was founded by Mother Caroline Gerhardinger in 1848.
The K-8 school serves the immigrant community in Philadelphia, beginning with German immigrants in the 1800's.
For the past 30 years, the school has been under the leadership of principal Sister Rose Federici. SIster Rose was drawn to the school after graduating from Notre Dame of Maryland University. She spent time teaching first grade at St. James and John School in Baltimore and then taught for three years at St. Peter's. She taught at various other schools but knew her heart and mission was at St. Peter's
"There's something about the kids, there's something real, something good," Sister Rose said. "We have the best children in the whole world. The 5th grade comes every Friday and they do prayers at 9am over the loudspeaker and they pray for vocations to the priesthood and religious life."
In addition to prayer, the students learn to give back to their local community. There is solidarity day with the poor once a month and the Shalom club collects money each month to be donated to various organizations. Sister Rose says this tradition of giving back can be traced to the school's roots.
"The children in the late 1800's collected money and they donated the money for the altar in the upper church," she said.
Now during the holiday season the school makes baskets for families in need. Sister Rose says everything in the baskets are donated by students and community members.
"We have 198 students. We have the best kids in the whole world," Sister Rose said. "Our kids are involved in everything, they get the charism of Mother Theresa and Mother Caroline.
Sister Rose says her students know the halls of St. Peter are more than a place to learn.
"Most of our children are from single parent households. We're not just a school but also a support system," she said. "Our kids know they can come here and they are safe, they are loved."