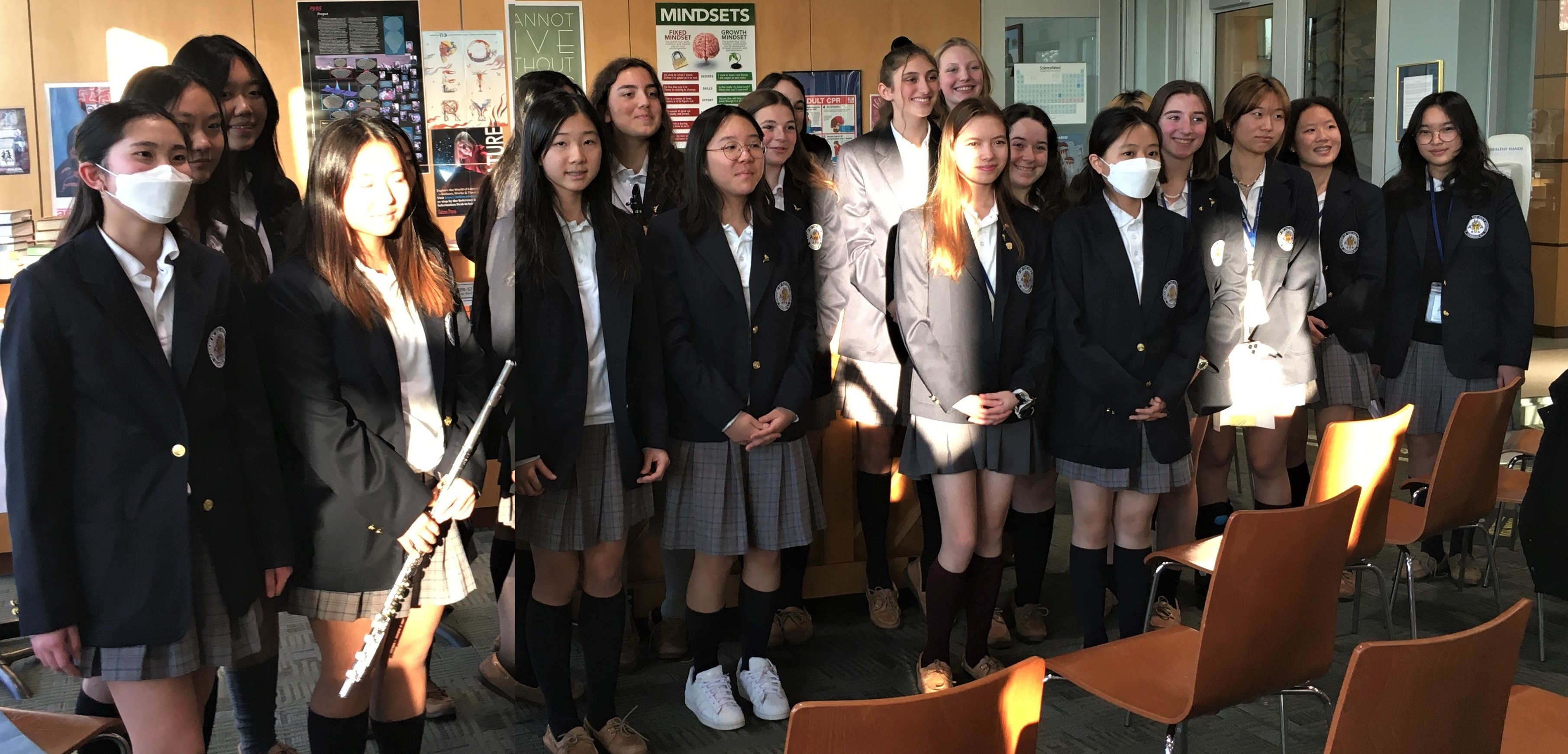 Chapter 2150 of the Modern Music Masters National Honor Society has accepted 22 top-flight musicians from the Academy of the Holy Angels. The Tri-M induction, which was held December 2, recognized each new member's musical accomplishments, scholarship, character, leadership, and service to others.
"This is the first time so many ninth graders are being inducted into Tri-M, which ensures growth through their four years at Holy Angels. Plant a seed; reap a musical harvest," said AHA Performing Arts Director Daniel Mahoney.
Vocal musicians who gained entry to Tri-M are Martine Alvarez of Chestnut Ridge, New York; Audrey Collins and Rachelle Wu of Harrington Park; Mia Diaz of North Bergen; Alyssa Finch of River Vale; Eleanor "Ellie" Finnegan of Pearl River, New York; Kate Kim and Scarlett Shim of Palisades Park; Kiera Kwiatkowski of Glen Ridge; Charlotte Lasaga of Hoboken; and Kira Sullivan of Teaneck.
Each year, induction organizers embed a mini-concert in the celebration. Selections from December 2 included "Pavane" by Gabriel Faure, "All of Me" by John Legend, "Sonata No. 5, movement 4" by G.F. Handel, "Girl" by SYML, and "The Pink Panther" by Henry Mancini.
Tri-M, which is sponsored by the National Association for Music Educators, recognizes young musicians and strives to produce leaders in music education and advocacy. At AHA, Tri-M members work diligently to promote music at school and in the greater community.
AHA's Tri-M chapter is one of the most active in the area. Members organize outreach concerts, and have raised funds to benefit music education programs for young students. Tri-M has raised funds to support an after school program that empowers young people through music, and a non-profit that purchases instruments for young musicians who cannot afford to purchase or rent their own.
Mahoney concluded the event by thanking the administration and the Tri-M Executive Board. Board members currently include President Faith Youn, Vice President Olivia Papp, Secretary Ellie Sawyer, Treasurer/Activity Coordinator Isabella Wisniewski, Public Relations Chair Shivani Sahu, and Archivist Annalise Olsen.
In his comments, Mahoney noted the Tri-M Board's "boundless energy and great enthusiasm toward music." He added, "I am most grateful to President Faith Youn, whose leadership skills are unrivaled."