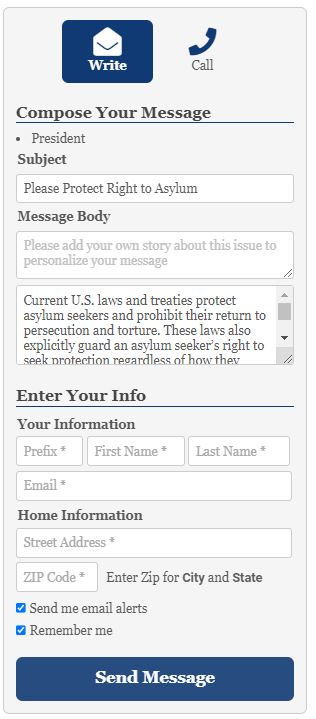 The Biden Administration has issued a proposed rule to limit access to asylum for people who enter the U.S. without authorization through the southwest border if they did not seek asylum in a third country before arriving in the United States. The new proposed rule, slated to take effect in May and to expire after two years, would presume asylum ineligibility for those who enter illegally. 
Current U.S. laws and treaties protect asylum seekers and prohibit their return to persecution and torture. These laws also explicitly guard an asylum seeker's right to seek protection regardless of how they arrive in the United States. The proposed rule would deny protection to asylum seekers and require them to seek asylum in countries that do not have functional asylum systems and where they may still be in harm's way.  It would disproportionately impact people of color, giving preference to those with access to technology and wealthier immigrants who can access visas, have sponsors in the United States, and can travel by plane. 
Learn more about the proposed rule here and consider this analysis. Catholic (and other faith-based) immigration advocates are deeply concerned about the impact the rule could have on vulnerable people seeking safety and asylum. Learn more.
The School Sisters of Notre Dame have walked with immigrants and those seeking asylum in the U.S. for as long as SSND has been present in the United States. It is not a crime to seek asylum, it is a legally protected right. We reaffirm the inherent dignity of every person and the right of families to seek security and safety for themselves and family members at our nation's border.  Join us in urging President Biden to support a robust, fair, humane, and orderly system for those seeking safety and asylum at our nation's doorstep.