By Sister Nutz, SSND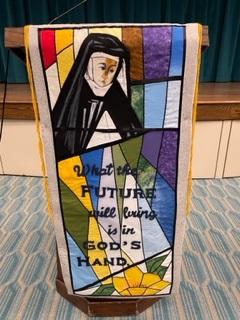 Watermark Sisters enjoyed a special May 9th afternoon Liturgy attended by Sisters and lay residents as we prayed and sang SSND hymns together.  
At the homily, the celebrant, Fr. John Mulreany SJ, from Fairfield University, quoted some excerpts from the very moving letter Blessed Theresa wrote to the European sisters right before the 1847 departure for America. He compared some of her words to the Spiritual Exercises of St. Ignatius. We then renewed our Vows publicly.
Earlier, we gathered at round tables for a conversation prepared by our Community Leadership Team. "Living Our Vowed Life Now" was a follow-up to previous conversations on how we are finding life at Watermark now. After each Sister's personal (and private) self- evaluation, we shared together on "Possible Options for Moving Forward." After this enriching time, we enjoyed a relaxed supper together.
"Our charism, gift of the Spirit', was embodied in Blessed Theresa of Jesus Gerhardinger", our foundress.  We honoured her anew on May 9th, 2023 in the many communities throughout world where her spirit has influenced the lives of many living and deceased Sisters along with those to whom they ministered.  Her portrait has decorated a wide variety of art forms depicting the many different cultures where she sent Sisters to respond to God's cause.  These were shown as part of our treasured story.
The face of Blessed Theresa painted by Sr. Evelyn Volk was centered on the front of our altar in our chapel in Waterdown, Ontario Canada.  Here we School Sisters of Notre Dame celebrated the 190th anniversary of the founding of our congregation.  Our Associates were invited to celebrate the Eucharist with us and join us for dinner.  The dining room also had students and visitors from Laureate College, the international school with whom we now share our former Notre Dame Academy.  May Blessed Theresa continue to intercede for us so that our charism can continue to develop in the livng community where ever God calls us.