By Sister Missy Gugerty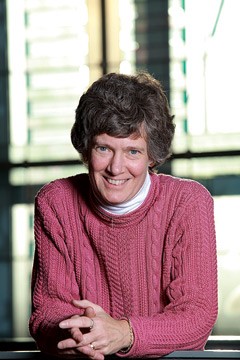 I have been thinking a lot about our current reality, specifically that all of us continue to age and, in many cases (though not all!), we are experiencing the limitations of our energy, individually and collectively. And at the same time, many of us still express the deep desire to be mentally and spiritually nourished and enriched...in community.
With great fondness, I periodically think about Assembly Weekends in the former Baltimore Province when I was a postulant in the mid-1980s and we had an SSND version of "Saturday Night Live!" We gathered, we were educated, entertained, informed and inspired by both being together and the input we received. I've been imagining how wonderful it might be to experience again such engagement and stimulation at this time of our lives.
I was blessed several years ago to be invited to learn about and become involved with Well for the Journey, a faith-based organization located in Towson, Maryland that provides high-quality programming for the mind, body and soul. After attending several programs, and sharing about those programs with other SSNDs and Associates who were expressing great interest, it occurred to me that we might easily form a partnership with the Well, with the Well providing programming expertise and SSND providing attentive and enthusiastic participants, and maybe even a co-presenter?
While musing on this idea, I began discussing it with some people at the Well and in SSND. Through a casual conversation last summer with Suzy Blackburn, I learned that the Associates were similarly in search of some kind of spiritual enrichment. The Well was very interested in collaborating with SSND, and so in the early fall we began planning. As a result, we have created a three-part series of reflection days on "What Makes Us One" beginning in February 2020 at Villa Assumpta. The hope is that this will help us trace our connectedness to our true selves, each other, creation, and God, through the prism of poetry, spirituality, cosmology, and human rights. The first gathering on "What Makes Us One: Reflections on the Poetry of Mary Oliver," will be presented by Sister Patricia McLaughlin and Greg Cochran, executive director of Well for the Journey.
In these times of great change in our province, congregation and the world, I believe it is important for us to gather and to reflect together on our commonalities so that wherever we are or wherever we go we will remember "What Makes Us One" and will carry with us treasured memories of such experiences!