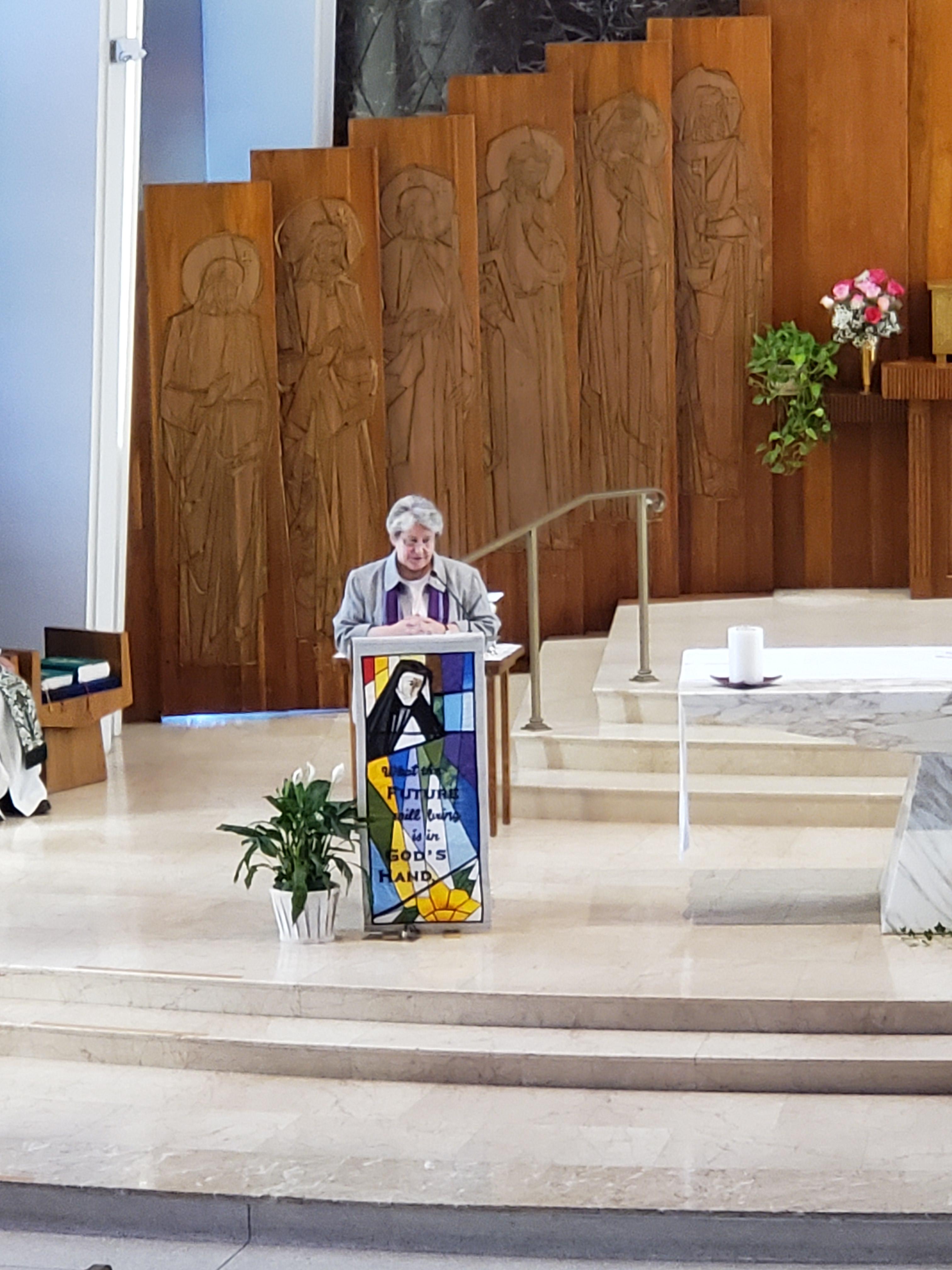 Sister Mary Maher, former General Superior of the congregation, offered the following reflection on October 24, during the Wilton celebration of the Foundation Day of the School Sisters of Notre Dame 186 years ago.
Happy Foundation Day! 
This year, this Foundation Day – with all that is going on here in this country and in so many places around the world, with all that is going on in our lives in this precious local community – it may be good for us to reflect on two simple questions:
•    What does it mean to have a foundation, a good foundation? . . . and . . .
•    What is our foundation?
There is no more perfect guide for us than this Gospel which the Spirituality Committee so fittingly chose for today. These are tender words from Jesus. It's all about having a foundation. We'll come back to it.  
First, I want to say that, as School Sisters, as educators, we know very well what it means to have a foundation. We've spent our lives trying to provide a good foundation for others in a wide variety of ways both inside and outside of a classroom.  
There are countless examples of this.Think about it in your own life. How did you try to provide a good foundation for others, in or out of a classroom? I'll mention two school-related examples. Remember how we used to say that it is important to put your best teachers in the first grade. Why? Because you want to give the children a "good foundation."  I think of the Sisters I know who spent their lives teaching kindergarten and first grade or administering elementary schools. What a significant contribution to society, to our mission in the world . . . all those youngsters to whom we gave a good foundation, opening up the world of learning and also teaching them to know that good moral character is as important as achievement. (Just take a look at how Nancy Pelosi is navigating the tumultuous seas in Washington. I'm proud to say she is one of ours from both grade school and high school.)
Many of us remember how we studied Latin in high school. Not only was it a good foundation for learning other languages; it also – almost without our realizing it – helped us to understand, to absorb, Western civilization and the Western Church, our heritage.  
So, a foundation is "for" something. It's a base for something else. The foundation of this magnificent building is for the sake of holding it up, supporting it, keeping it upright, being a ground on which it rests. 
Without a good foundation, things fall apart.
Jesus and Mother Theresa knew that. Which brings us back to the Gospel for today.
Recall the context of those tender words of Jesus, spoken in prayer to God on our behalf. It is the Last Supper. Jesus is aware that he will be taken away and executed, . . . that, in his flesh, he will be leaving his disciples. He wonders: Will they have what it takes to carry on in the Spirit? Did he give them all they need? He earnestly prays to God that they, that we, may be grounded in the divine life: may they be one, as you, Father, are in me and I in you, so may they be in us, that the world may believe that you sent me and that they carry on the mission I have from you.  
Jesus is not thinking of a check list here. Did I teach them everything? Did I cover the whole curriculum? No, that's what not what this was about at all. Jesus was praying that the disciples, and all who would follow them right down to us here and now, would never forget, never give up on, the one sure thing his whole life was meant to teach: That we live in God, in the trinitarian life. The incarnation means we live with Jesus in God and God in us. And that can never go away. No matter what.
God is our foundation. Because of Jesus, God knows what it means to be human and so we are bound together in a love that can never leave us. God and we are inseparable.  That is our foundation. That's the unity we talk about at the heart of our charism. We all live in God – all people, all of creation, in the trinitarian life. That's the profound oneness we talk about at the heart of our charism.
Now, you may ask, as I do: What does that mean?  How am I supposed to understand that I live in the Trinity, that we live in the Trinity?  Oh my goodness, this is the Mystery that encompasses everything – God, humanity and all of creation!  There are books galore – some of them very good ones – on this topic. We will have a symposium on it, in 2021. The whole congregation is in the midst of a theological reflection process on it. And that is all good and wonderful and it will help us enormously.  
But the one sure way to experience this foundation of all reality is prayer, fidelity to personal prayer, abiding regularly, consciously, with the mystery of God. That's what grounds us.  
Now, I know only two things about what that means. First, personal prayer is unique to each individual. Whatever it means for you to pray is unique to you, to you and God and your ongoing relationship. We can help each other sometimes, but each one's way is unique and good and precious. Secondly, whenever we fall away from prayer, when we slip away for a stretch of time, when we are, if I can say, unfaithful for a period of time, we become ungrounded. The foundation gets a bit shaky. Things can fall apart.  
Praying, being there at prayer, grounds us. It doesn't matter if "nothing happens." Everything that needs to happen is happening. We are there, acknowledging God as God, trusting that God's love envelops us. That might not sound like much, but it is everything. The foundation is good. It will hold us and we can carry on no matter what.    
Being held up by this foundation will determine how we live, how we act toward one another, how we relate to all the others in our lives and in our world.  
Grounded in a unity so profound that it includes God, humanity and all of creation is the foundation for our community life, for our outreach to those who are poor and marginalized, for our attitude toward those who are "other"....This foundation – that we abide in God and God in us – will determine how we live.  
Mother Theresa also knew that without a good foundation, things fall apart.  Reading today's Gospel in the light of Foundation Day, I was immediately put in mind of a particular letter of Mother Theresa. We refer to it as letter #714. It is the longest letter she ever wrote. In Mary Ann Kuttner's marvelous annotation of the letters, it takes up 27 pages!
She wrote it on Trinity Sunday, May 30, 1847 – just before she left Munich to embark on the journey to North America. I thought of this letter because Theresa's situation was somewhat similar to that of Jesus at the Last Supper. She thought she was very likely going to die, on the sea voyage or on the new continent, and she was leaving behind a relatively new group of disciples. She pours her heart out, really.
The entire letter is about shoring up the good foundation she hopes she is leaving with the Sisters. Unlike Jesus, however, Mother Theresa, in her thoroughness, tries to cover the whole curriculum.  The letter is divided into sections with the headings you would expect: The vows, prayer, educational ministry, the enclosure, etc., etc.  
Like Jesus, however, her words are also very tender. She declares her love for us and speaks of how she weeps over us. You should read it sometime. It's touching really.  It is filled with quotations with which we are familiar, but may not recognize as coming from this one letter.  It is in Volume 6. It is everything she regarded as foundational.  
Thankfully, for us, the writers of You Are Sent took everything into account and, under the inspiration of the Holy Spirit, brilliantly summarized our foundation in the Prologue to the Constitution in this way:
Our charism, gift of the Spirit, was embodied in Blessed Theresa of Jesus,
        who, longing for the oneness of all in God,
            grounded the congregation in Eucharist,
                anchored it in poverty
                    and dedicated it to Mary.
I cannot tell you how often I have prayed with that sentence.
I want to leave you, Sisters, with a conviction I have held for some time now. I often said it at meetings with congregational leaders. It reflects Mother Theresa's deep intuition, which prompted her to call us Poor School Sisters. You can see what you think.  
Here it is: I believe that the key element of our foundation that is most relevant to and essential for living in these times – both internally and externally – is being anchored in poverty.
I am not speaking primarily about money and possessions. That is the most superficial level of the meaning of the vow. It is an essential part of the vow, but it is the most surface level. It is the part we often struggle with, though. I certainly do. But I suggest to you that those struggles are rooted in the deeper meaning of the vow. I think the deeper meaning of the vow of poverty contains the key for dealing with the issues of our day...
I used to say to provincial leaders that I felt every sister should read paragraph 16 of You Are Sent every day.  Here it is in part:
Fundamentally, we stand before God in total emptiness, humbly accepting our humanity. We cling to nothing but the Lord, who gifts us with peace and joy, enables us to be content with what we receive, and sets us free from the selfish desire to possess. Freed and trusting, we are ready to approach others in dialogue, to hope against hope, to accept privations, and to welcome insecurity.  In accord with the insistence of Bishop Wittmann, Father Job, and Mother Theresa, we affirm that poverty is the foundation of our congregation.  
Poverty, so understood, is our foundation, the bedrock on which we stand. What we are talking about here is humility, openness, freedom...It is a fundamental stance toward life, toward reality. God is God and we live in God. We have all we need.  
We are free, open, and bound by love to one another in God.  
This humility, openness, oneness, is the secret the world needs to learn. I think we know it. Being with you these past months, Sisters, I believe you try to live it. I can tell you this.  I'll move with you anywhere, because I know we share a solid foundation. I know we'll figure out together how to be true to it. For that, I am profoundly grateful and can truly say Happy Foundation Day.