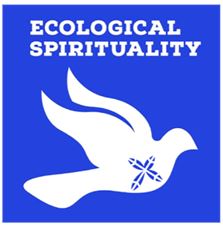 Becoming a Laudato Si' Community
The Addressing Climate Change Committee will be posting brief reflection resources on each of the Laudato Si' Action Platform goals. Here is the fifth, presented by Cyrile Sincock, on Goal 6—Ecological Spirituality: https://atlanticmidwest.org/posts/measuring-integral-ecology-spirit-laudato-si The collection can be found here: Reflections on the Laudato Si' Goals | School Sisters of Notre Dame - Atlantic Midwest
Climate Change
The Season of Creation begins on September 1! Make sure to check back for opportunities to participate. To get started, check out this beautifully illustrated overview of the climate crisis, and consider registering for these virtual opportunities:
Online dialogue in celebration of the Ecumenical and Interreligious Guidebook: CARE FOR OUR COMMON HOME, jointly published by the United States Conference of Catholic Bishops, Catholic Association of Diocesan Ecumenical and Interreligious Officers, and Catholic Climate Covenant. "This guide offers insights into how Catholics can bring the riches of the Catholic theological tradition to ecumenical and interreligious discussions and actions that uphold the dignity and sanctity of our environment." WEDNESDAY, SEPTEMBER 1, 11:00 AM – 12 NOON ET.
In light of Laudato Si' Goal 6—Ecological Spirituality, you also might be interested in a four week journey with Douglas Christie who was recently interviewed in Occasional Papers on Contemplative Ecology.  How do we live during this challenging days and stay connected as one with Spirit and Earth? Please click the link to register. 

The virtual sessions will be held on Wednesdays, September 8, 15, 22 & 29, 2021 (10am-12pm Pacific/1-4pm ET). Registration cost is $60 CDN ($47.58 USD).
Racism: March on For Voting Rights
On August 28th, 2021, there will be a march in Washington, DC to protest the hundreds of repressive voting laws being passed across the U.S., and to demand federal protections on the right to vote. Click this link for more information: March On for Voting Rights, and check out Kathleen Bonnette's latest article in America, Honor St. Augustine's Feast Day by Marching for Voting Rights. Please contact Arlene Flaherty (aflaherty@amssnd.org) if you plan to attend. 
For those unable to attend, please use these resources to participate virtually.
Immigration
"Pathways Prayers for Citizenship" Click the the link to RSVP to Participate Aug. 30 at noon ET! (U.S.)
Join with faith partners from around the country for a half hour -- from 12 noon to 12:30 pm ET on August 30th -- to share in prayers for pathways to citizenship, hear testimonies from DACA & TPS recipients, farmworkers, and essential workers, and receive resources for actions that you and your faith community can use each week to urge long-awaited opportunities for citizenship to be offered to our immigrant friends, neighbors, and congregation members!
Click here to send a letter to your Senators urging No More Delay: Positive Immigration Reform Needed Today.
Human Trafficking
Join USCSAHT for "Slavery in Our Tomatoes," a webinar with the Alliance for Fair Food to learn about how thousands of farmworkers, people of faith, students and consumers of conscience led the Campaign for Fair Food and won 14 legally-binding agreements with some of the world's largest food retailers. As a result, tens of thousands of farmworkers are experiencing never-before-seen rights on farms from Florida to New Jersey. You will also learn about their current campaign targeting Wendy's and the tomatoes they purchase. Sep 1, 2021 11:00 AM Central (12noon ET).
Haiti
We invite you to reflect on this article, published in the aftermath of another devastating Earthquake in Haiti that left thousands dead, injured, or homeless: 
•    Solidarity demands respect for Haiti's complex past | U.S. Catholic (uscatholic.org)
Read the AMSSND statement here. Donate to our partner, Beyond Borders, to assist their Earthquake Relief efforts here.