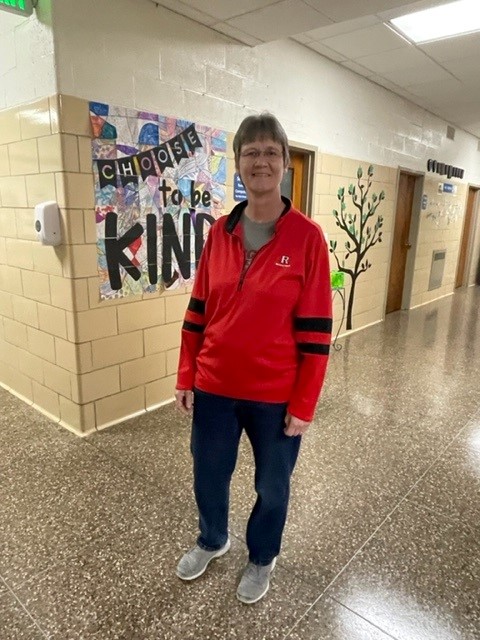 She may be a School Sister of Notre Dame, but when Notre Dame University played Rutgers in the annual March Madness basketball tournament on March 16, that other Notre Dame was not the one in her prayers. That's because Sister Joan's brother Steve is the Rutger's coach, and in spite of enormous odds, she had to cheer for the underdogs. Unfortunately, the luck of the Fighting Irish came through on the day before Saint Patrick's Day, and they squeaked out an 89-87 win against the Red Knights.
This story was originally featured on NJ.com on March 16. It was written by Steve Politi | NJ Advance Media for NJ.com
For Sister Joan Pikiell, the Rutgers-Notre Dame Matchup is All About Brotherly Love
DAYTON, Ohio — For the Pikiell family in Bristol, Conn., there was never a question of who had control of the TV on autumn afternoons. It was Joseph, the father in this crowded house, and all nine kids had to decide if they wanted to join their old man for the only thing that he considered to be appointment television.
Notre Dame Football.
"That was always his team," Joan Pikiell, one of the nine, said over the phone on Tuesday afternoon. "Not for basketball as much, but he was a loyal, loyal Notre Dame football watcher. He always got me watching with him. My mother would go read a book in another room!"
Joan Pikiell laughed. She knows why a sportswriter is calling her now, and why this connection from her past is suddenly relevant. Her brother, a college basketball coach of some note in New Jersey, will lead Rutgers into the NCAA Tournament on Wednesday night (March 16) against the same Notre Dame that was a fixture in her family's living room decades ago. Steve Pikiell will coach the Scarlet Knights against the Fighting Irish for their first opportunity to survive and advance, and let there be no doubt, the entire Pikiell family is united in its rooting interest during March Madness.
Still: This connection runs a little deeper for his sister. She is also Sister Joan Pikiell, not only surrounded by other nuns who normally cheer for her brother's opponent, but one who followed her religious journey at a institute called SSND.
The School Sisters ... of Notre Dame.
It is not, to be clear, the same Notre Dame. "I wish he was playing our university, Notre Dame of Maryland, because I know we'd beat them," Sister Joan said. But it is a place where, to borrow the words of her brother, "Notre Dame is Notre Dame" — more than just the average university among the 67 others competing for a national championship this spring.
"Yes, without question, there's a lot of Notre Dame," Joan Pikiell said. "Our Sisters do follow Notre Dame — University of — but I'm absolutely (rooting for Rutgers), and many of our Sisters are, too, because of Steve. There are certain times when they will allow us to cheer against them."
Joan Pikiell is following her passion much in the same way that her brother has. Raised by two Catholic educators, she said her "journey to religious life" happened later in life. It took her to Chicago and St. Louis, where she worked in prison ministry and taught English as a second language to adults.
"I enjoy my relationships with family and friends," she wrote in an essay on the School Sisters of Notre Dame website. "I loved my job teaching at a parish elementary school working with a principal and faculty focused on our Catholic mission. I was active in my home parish teaching CCD and volunteering. So, why give all this up? Despite all these blessings, I sensed that God was calling me to be and do more."
Pikiell is now a middle school teacher at Our Lady of Hope/St. Luke in Dundalk, Maryland, and she used the NCAA Tournament as an entry point for a lesson this week. She couldn't, of course, have a tournament pool — Catholic school! Duh! — so she did the next best thing to get her students to talk about the universities they'll be watching on TV.
"I like to get the kids looking at universities," Joan Pikiell said. "So we randomly pick a team for everyone in the class to follow throughout the tournament. I got Rutgers, of course. That wasn't random."
As for the competition?
"I almost pulled Notre Dame out," she admitted. "But I put it in. I put it in. I said to one of my students right away: It's you and I doing battle, and you know who better win!"
Notre Dame has a nationwide following, but it's especially strong in the Irish Catholic neighborhoods of New Jersey. When Rutgers guard Paul Mulcahy, who grew up in one of those neighborhoods in Bayonne, said that he knew "a lot about Notre Dame and what they're about," he was referencing people who grew up around him that rooted for the Fighting Irish.
That only changes over time, and with success. One win over Notre Dame won't change decades of viewing habits and family traditions, but Steve Pikiell knows that Rutgers will gain traction — and eyeballs — with every victory this time of year.
"Notre Dame is a brand. You don't have to explain anything about their program and about their history," Pikiell said. "But I think people are more excited that Rutgers is in the tournament and has an opportunity to compete for a national championship."
Among those excited people is a group of nuns who usually cheer for the University his father loved to watch every autumn weekend. Sister Joan Pikiell wouldn't have it any other way.