Sister Marie Dolores Schneggenburger, SSND
August 25, 1920 – April 7, 2020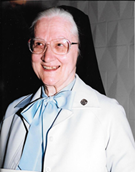 In an autobiography written just before her novitiate, Alma Margaret Schneggenburger wrote that she "was born the baby sister to five girls and five boys on August 25, 1920."  She was baptized four days later at St. Mary Church, the only SSND/Redemptorist mission in the city of Buffalo, New York. Leopold Schneggenburger from Aixheim, Germany, and Otilia Uschold Schneggenburger, a Buffalonian, were her parents.
Alma graduated from St. Mary School in 1934, having received First Communion and Confirmation in 1927 and 1932 as a student there.
She completed high school in 1938 at the Nardin Academy, a private Catholic school, founded by the Daughters of the Heart of Mary in 1857. Her mother had died in 1936.
With the consent of her father, Alma entered the Candidature on Aisquith Street in Baltimore the summer of her graduation. Her autobiography says that "the desire to choose the religious life has been with me as long as I can remember." It seems curious now that she made no mention of her four sisters who had already entered SSND: Loretta, who had become Sister M. Herbert; Clotilda (M. Eligius); Maria (M. Amata); and Ottilia (M. Leopold). Another sister, Agatha, had married Arnold Meyer, and one brother was a Redemptorist, Brother Lawrence. Eligius, Herbert, Oliver and Leo, her other brothers, completed the family.
Alma took piano and organ lessons during her Candidature. At Reception on July 26, 1940 she received the name Marie Dolores, and was professed one year later on July 29; she made final profession on that same day in 1947.  All took place at the Baltimore Motherhouse.
From the close of her novitiate in 1941 until 1972, Marie Dolores taught grade school and was often parish organist at several missions. From 1948 to 1952 she was organist while also studying at the College of Notre Dame of Maryland.  From 1961 to 1969 she was Sunday organist at St. Raphael, East Meadow, NY. Marie Dolores, in all her assignments, was always very cheerful and outgoing.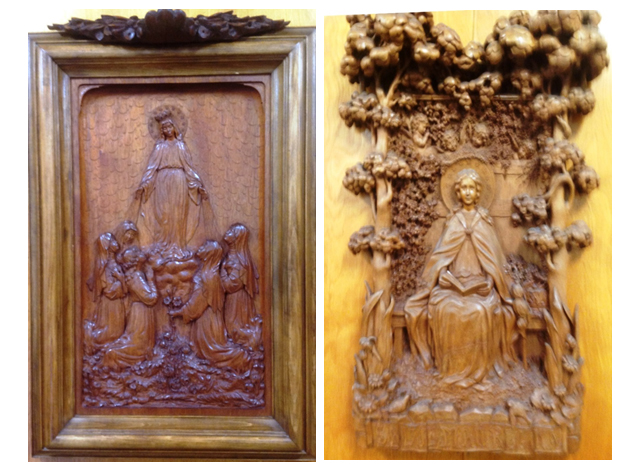 Her ministry changed in 1972 when she became an LPN at Lourdes Health Care Center in Wilton, working until 1976. She remained at Wilton, offering service as a receptionist, as well as organist, until her retirement in 2001. In 2005 she became a resident at Lourdes. Marie Dolores was among the first sisters to go to Ozanam Hall in Bayside, NY, in late September 2019. She died there peacefully on April 7, 2020, four months short of her 100th birthday. All her siblings had predeceased her.
Leopold Schneggenburger, their father, was a master woodcarver who sometimes worked at the movie studios in California. Two of his beautiful woodcarvings are presently displayed in the dining room at Villa Notre Dame. They are wall hangings of the same wood, matched in size. One is named "Hail, Queen of the May" and shows a seated Mary with a book in her lap. She is in a trellis surrounded by trees whose leaves are very finely carved and abundant.  The matching carving honors Leopold's five professed daughters, who are kneeling before Mary on banks of roses. Four are wearing nuns' veils and one a crown of flowers. This is Marie Dolores, who had not yet entered the convent. The workmanship of these carvings is amazingly intricate.  Click to learn more about the Schneggenburger Family
Marie Dolores died peacefully at Ozanam Hall on April 7. There could be no Mass there, or visitation, since residents cannot leave their floors. The undertakers kindly arranged to bring the hearses carrying the coffins of Sisters Mary Martin Colbert and Marie Dolores to the oval at the front of Villa Notre Dame on the way to St. Mary Cemetery in Bethel, Connecticut, on the morning of April 15. The community could thus pray a brief blessing and farewell.
At the burial, the funeral directors prayed the graveside service, since no Sisters could be present, and blessed the coffins. The VND community prayed it together, as well, led by Sisters Theresa Lamy and Pat Hammond on the intercom. Memorial Masses will be arranged for both sisters sometime in the future.