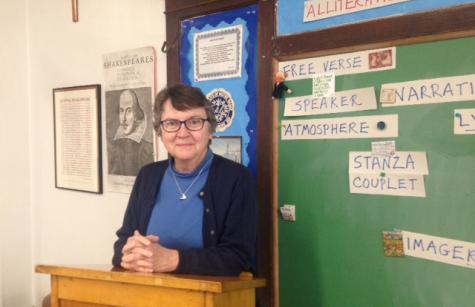 Each day Sister Jane Cayer walks the halls of School Sisters of Notre Dame history. She teaches English at Institute of Notre Dame in Baltimore, Md.

"It's such a traditional place and where our community started and I felt the desire to follow that," Sister Jane said.

Sister Jane was first introduced to the School Sisters of Notre Dame and her love of learning at Saint Jerome school in Baltimore. Her passion and desire to become a sister was evident to her family.

"In the 5th grade I wrote a letter to God and my father kept it," she said. "It said something like, 'Dear God, I know there are two paths to heaven, the easy and the hard way and I wanted to do the hard one'."

Eventually Sister Jane began her teaching career at St. Patrick's in Cumberland, Maryland. An experience she says was difficult but rewarding. "I taught music in 6th, 7th and 8th grade and I had English religion, spelling, and history classes as well," she mentioned. "You had 15 min. for lunch and you were busy all day, I loved it."

Eventually she moved on to teaching at Notre Dame Preparatory School but felt drawn to where the School Sisters of Notre Dame began in America.

"I really feel like part of our original mission (at Institute of Notre Dame) and that's really good," Sister Jane said. "I feel I can pass on the knowledge that I have to the younger teachers and I'd like to keep that going."

She is gearing up this year to celebrate her 50th jubilee and is reflecting on her time as a sister.

"It is an important milestone but I think I can see such a difference from the 25th to the 50th," she said. "At the 25th it is more like,' wow this is so cool' and we had a big party and now we're so settled and it's more of a contemplative and quiet celebration."

But she said there will definitely be a celebration for her and her fellow sisters.