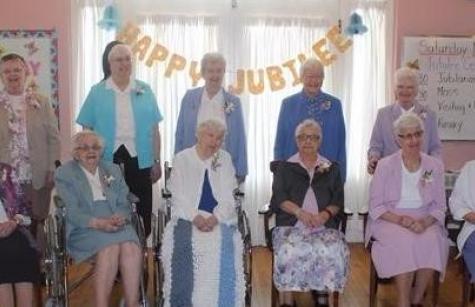 On Saturday, May 27 the jubilarians of Notre Dame Convent celebrated their years of service to God's people with family and friends. Mother Theresa established the tradition of celebrating the first Silver Jubilarians, as she wrote on April 17, 1864. These celebrations are a venerated tradition in SSND.

The liturgy was concelebrated by Rev. F. Weisbeck, JCL from Kamloops, British Columbia , Rev. W. Lobsinger, pastor of St. Thomas Parish, Waterdown and Rev. P. Labito, chaplain. Following a festive meal, the Jubilarians and their visitors enjoyed the afternoon together.

Pictured here are (seated, from left) Sister jubilarians Eileen Pautler (75th), Therese Messner (70th), Eleanor Olinski (80th), Estelle Malleck (80th), Margaret Volk (70th), Norma Schmidt (60th). And standing (from left) are Sisters Doreen Swift (60th), Mary Jane Berges (50th), Gloria Seifried (70th), Margaret Liethen (60th), and Rosanne Morgan (60th).