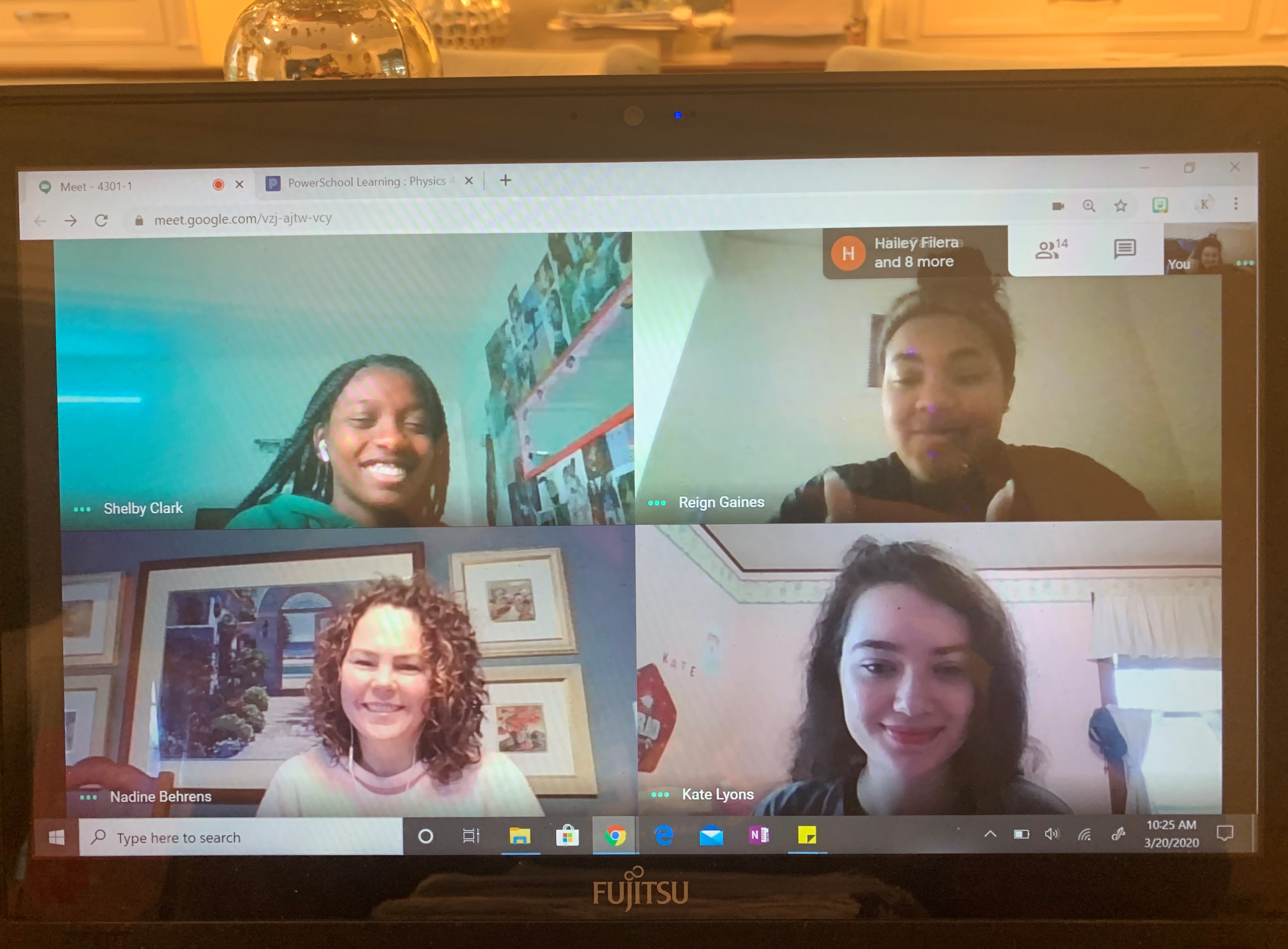 Growth mindset is a lifestyle at Holy Angels, where the Academy's community of active problem-solvers quickly smoothed the transition from classrooms to distance learning. While the world self-quarantines to halt COVID-19 (novel coronavirus), AHA's teachers, students, and technology team are sharing tips for success, and getting creative as they maintain educational continuity. Many activities are still taking place, albeit in new ways.
"We still start the day with prayer, and we have daily trivia," said AHA Principal Jean Miller, who keeps everyone connected via email. "We are learning that a school is a building, but we are a community; one that is vibrant, thoughtful, and resourceful, especially in the face of adversity. Our teachers are amazing professionals. Their commitment, passion, and love are apparent in their lessons and in the multitude of ways they are connecting with our students."
The AHA Office of Academic and College Counseling has been helping students with course selection for next year, and prepared a college search page for juniors who will not be able to visit colleges during the Easter break. In addition, AHA Librarian Catherine Korvin has been working with faculty and students on classroom and research projects.
AHA Science Department Chairperson Patricia Prucnel prepared for distance learning by assembling cyber-packets for her students that include copies of workbook and textbook pages, and a PowerPoint presentation. She uses EdPuzzle, TedTalks, and YouTube for her classes. Although one computer program had some glitches due to increased demand, Prucnel addressed the issue by having students email her their assignments.
Like her coworkers, physics teacher Nadine Behrens uses Google Meet, a program that allows her to solve equations with the students in real time. Occasionally, she interrupts the class to use a Google Form as a "quiz." Behrens enhances her instruction with EdPuzzle, Khan Academy, Kahoot, and Quizlet, resources she was using before distance learning began.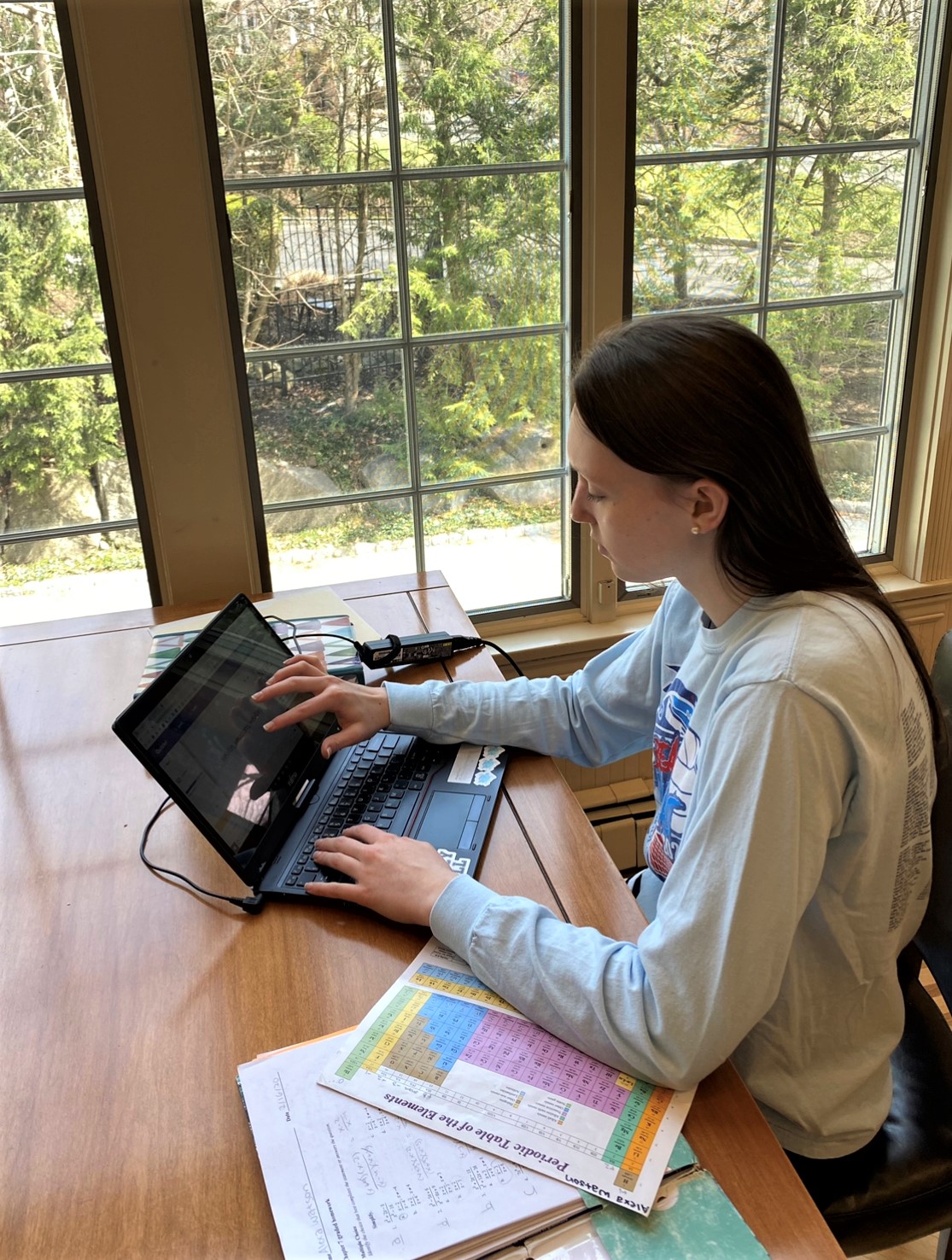 "The students and I begin each class with cameras and microphones on so we can greet each other," Behrens said. "The girls have learned to turn their microphones off while we are working on the lesson and turn them on to ask a question. However, they have been enjoying turning the cameras on at the end of the class so we can bid farewell.
"Luckily, the online textbook we have been using for the class this year has virtual labs. These labs have online simulations for the students. We had an opportunity to use one in school last month, so the students are familiar with the process."
AHA Instrumental Music Director Mariann Annecchino reported, "I'm having a wonderful time with my online music lessons. Right now, the students are just very happy to get the 'super deluxe Annecchino private online lesson.' I have the orchestra and jazz students recording themselves playing along with the professional recording so they can continue playing with an ensemble. They send me the recording and I assess their performance."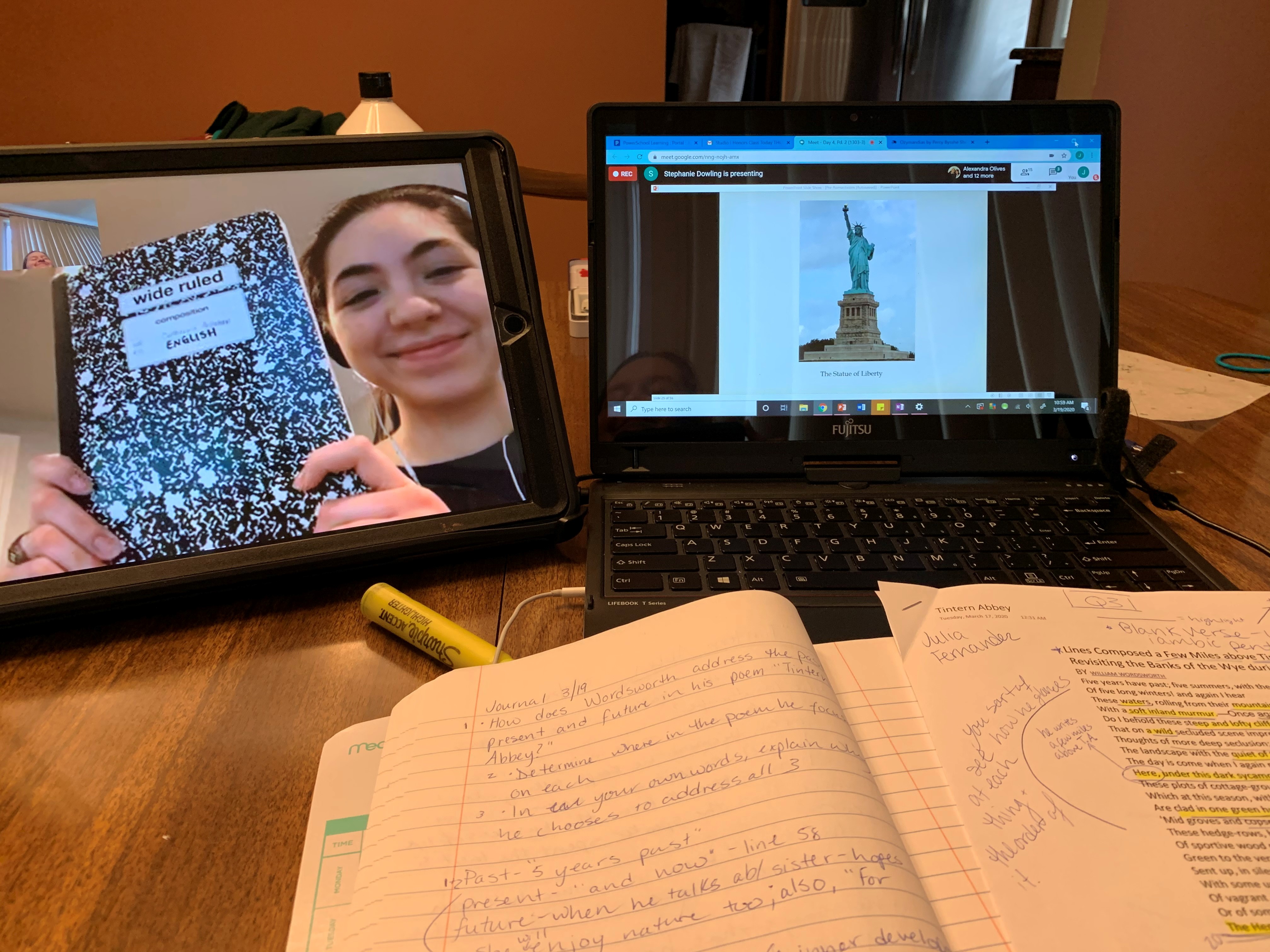 AHA junior Julia Fernandez copied and pasted the links for her classes in a readily accessible location, so she is ready to go every day. She stays focused on her work but enjoys being able to sleep a little longer, wear casual clothes, and even have a small snack during class. This junior views online learning as an effective way to adapt to the current situation.
"I do miss seeing all of my friends and teachers in person. It can feel a little bit lonely when you are sitting by yourself without seeing everyone, so my friends and I have been FaceTiming during lunch," Fernandez said, adding that FaceTime also makes group study sessions possible.
AHA sophomore Alexa Watson added, "I love that I am able to just relax in my living room or my kitchen to successfully complete my work and video calls." Without her daily commute, she can enjoy some extra sleep in the morning, which she said enhances her productivity.
"At 2:05 p.m., I am immediately free to complete my work or to do another activity," she said. She also uses FaceTime to connect with her friends. "I'm finding myself talking to classmates after 2:05 more than I did during regular school days," Watson noted.