School Sisters of Notre Dame who volunteer at Asylee Women Enterprise teach English classes, but they provide so much more to asylum seekers coming from around the world. Sister John Francis Kearney gives confidence and her fair share of hugs to those who come to the former St. Anthony's convent in Baltimore, the current home of Asylee Women Enterprise (A.W.E.).
"One of the women I teach from Liberia had never been to school, her father didn't allow it," Sister John Francis said. "The woman began by memorizing words to help herself learn to read in English. We began with preschool books. She is now getting better at reading and wants to get a job." Sister John Francis has been ministering at A.W.E since 2011. She learned about the organization from Sister Allyn Horton, who helped with the books and knew Sister John Francis, a former first-grade teacher, would be a good fit for A.W.E.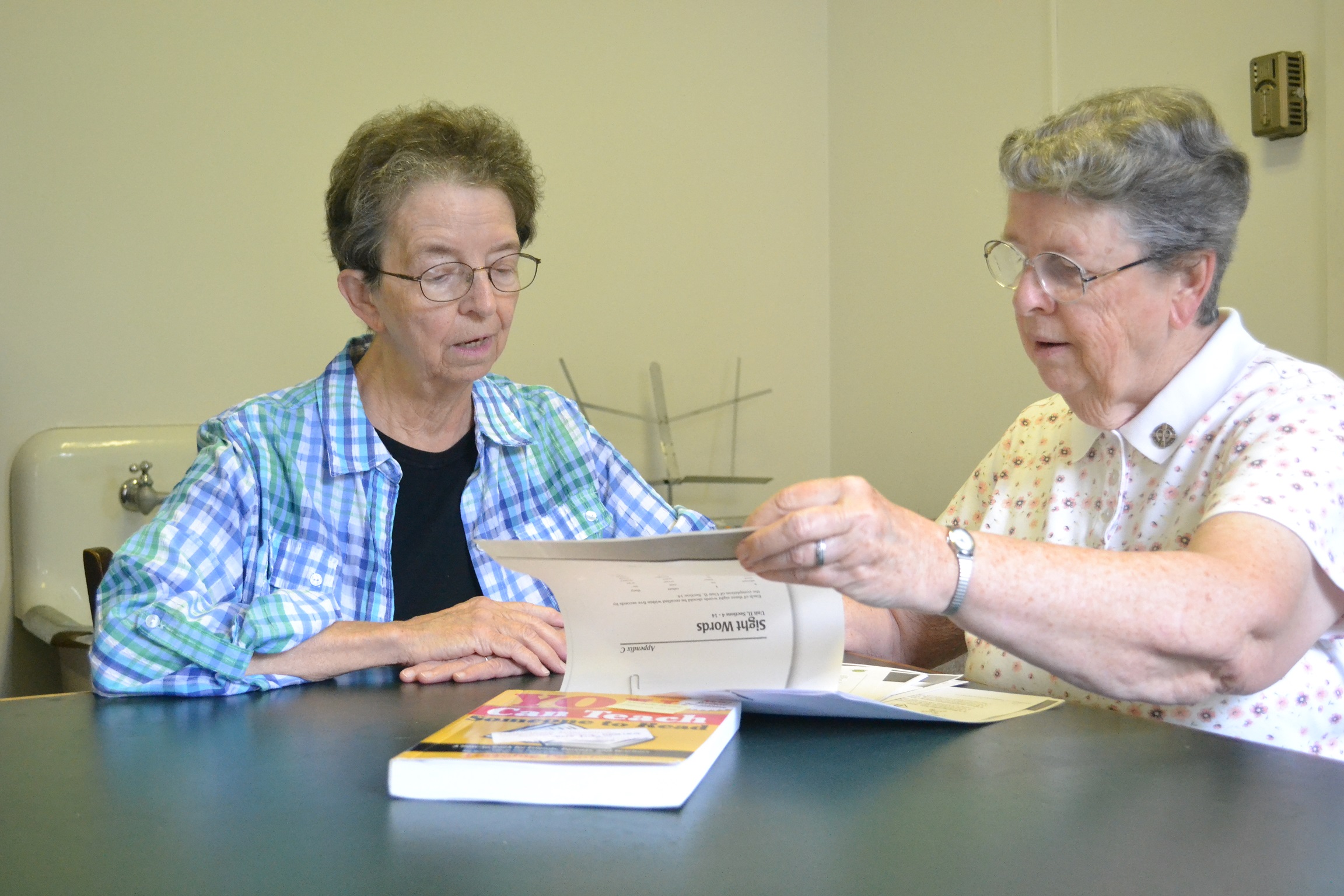 Eight congregations of sisters and more than 40 volunteers help people seeking asylum find their way through A.W.E. services. In addition to the School Sisters of Notre Dame, the network of sisters include the Benedictine Sisters of Baltimore; Grey Nuns of the Sacred Heart; Mission Helpers of the Sacred Heart; Sisters of Notre Dame de Namur; Sisters of St. Joseph of Chestnut Hill, Philadelphia; Sisters of Bon Secours; and Sisters of St. Francis, Philadelphia. 
Tiffany Nelms, A.W.E.'s executive director, said the sisters and volunteers often become surrogate family members for the asylum seekers. "We always say we have a lot of services, but the biggest benefit of our program is a community," she said. "We become their family, and that's really important when someone is trying to heal from trauma."
Some of the services A.W.E. provides are educational support, job readiness classes and, when they can, housing. Currently, A.W.E. has been able to find housing for 30 people at local convents and with host families. Mercy is one of three women living in a cottage on the Villa Assumpta campus, which has been provided by the School Sisters of Notre Dame. Mercy, an asylum-seeker from Kenya, arrived in the U.S. in December and has been volunteering in the technology department, providing assistance to sisters at Villa Assumpta. She said A.W.E. and the School Sisters of Notre Dame have helped her begin her new life in Baltimore.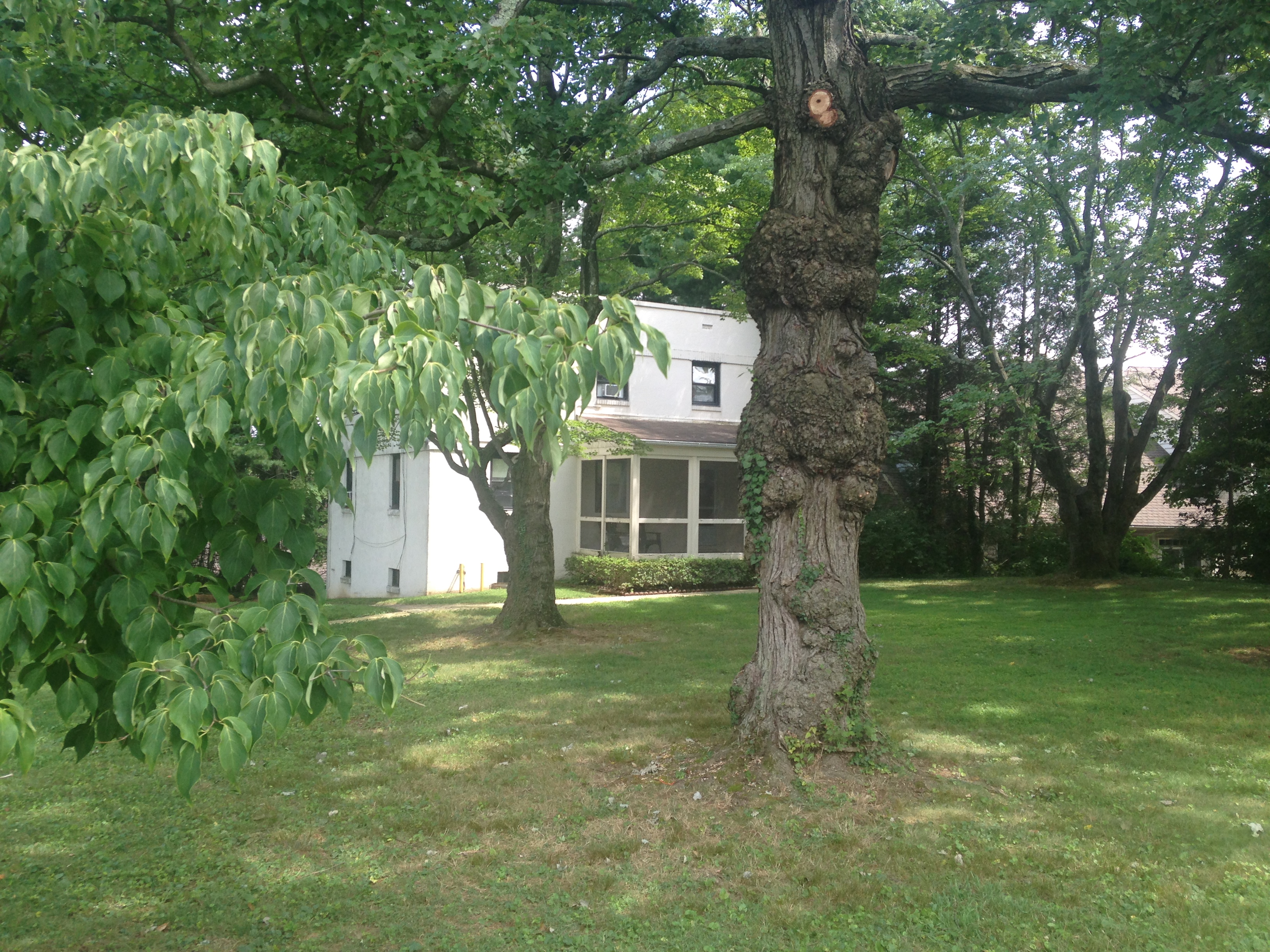 "It makes me feel like I belong. It has also given me a place I can call home, because being here alone can be hard," she said. While refugees and people seeking asylum may face similar issues in their home countries, their status in the U.S. is very different. Once a refugee receives permission and comes to the U.S., this person is eligible for housing support and work permits. Someone seeking asylum, on the other hand, flees to the U.S. and then requests asylum status. Until their asylum request is granted, which can take more than three years, a person is not eligible for any benefits, including housing support. Because situations in their home country are often life-threatening, asylum seekers are willing to take the risk of coming to a new country regardless.
In 2016, A.W.E. helped more than 100 people. By the end of 2017, A.W.E. saw more than 200 come through their doors. The School Sisters of Notre Dame awarded a Gospel Fund grant to A.W.E. to help support the program last year. Some asylum seekers coming into A.W.E. for support will take English classes with Sister Patricia Glinka. She knew she would volunteer at A.W.E. after returning from living abroad in Italy. During her time in Rome, the Generalate was able to open one of their properties to migrants finding a new life in Italy. 
"We need to welcome immigrants and be open and welcoming here too," she said. Sister Patricia found her passion at A.W.E. upon her return to Baltimore."One of the young women I tutor wanted to take the English as a Foreign Language test this past July, so I helped her study and prepare," Sister Patricia said.
"She feels good about how she did and is now waiting for the results. She wants to become a lawyer. It's a long road but I know she can do it."
Tiffany says that trajectory is very common in the people that come to A.W.E. "A lot of the women we see were professionals in their home country, so they find us online and will often call when they arrive at the airport," she said, adding that for many of the women this is the first time they have needed charity. "If you're doing human rights work in your home country, then you're the one providing the charity, not receiving it," Tiffany said. While they are in need when they arrive in the U.S., many A.W.E. participants are still looking for ways to contribute to their new city and community. "These people are grateful and are eager to give back, so many of them are volunteers themselves at various shelters," Sister John Francis said.
On alternate Thursdays, A.W.E. clientele provide service to local non-profit organizations. Recently a group prepared a meal and served it at My Sister's Place, a transitional housing program for disabled homeless women in Baltimore City. When they are not helping others, A.W.E. members are working to start new lives in the United States. Several women have gone through programs at Caroline Center, a School Sisters of Notre Dame sponsored ministry. The Caroline Center is a tuition-free Certified Nursing Assistant/Geriatric Nursing Assistant and Pharmacy Technician job-training program.
As they search for safe living conditions and independence, Sister John Francis is glad to know that she has been able to help these people in a small way. "It's very humbling, and it increases your gratitude for the gifts that you have to share with them. These are wonderful people," she said. "It's a new and different type of ministry for me; I haven't done anything quite like this before. Just to see their joy, and to know they have a safe place with us, fills me with joy."