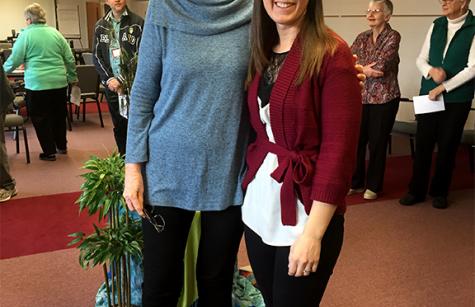 About 34 participants gathered March 1-3 at Villa Notre Dame for the annual meeting of the Four Commitments.  
The meeting included Sister Arlene Flaherty OP, Kathleen Bonnette, Brian Stevens from Beyond Borders, and the committee members.  Praying and sharing our work as the Four Commitments committees of our province, evaluation and drafting plans for March 2019 to March 2020 and enjoying each other's company were integral parts of the agenda. 
The challenges of Earth's warming and climate change in the light of our commitment to the Integrity of Creation led to consideration of Integral Ecology (Laudato Si). The pursuit of justice is not limited to one discrete issue but is connected to the whole of creation.  As Pope Francis says, "we are not faced with two separate crises, one environmental and the other social, but rather with one complex crisis which is both social and environmental.  Strategies for a solution demand an integral approach to combating poverty, restoring dignity to the excluded, and at the same time protecting nature." (LS139)  Each committee created a statement that would link its individual work for the coming year with Integral Ecology. 
A reflection of Arlene and Kathleen invited the participants to grow the consciousness of the Earth's crisis, not just as an ecological problem needing a behavioral change but as an indication of a need to renew our theological and spiritual understandings of how God abides within and reveals God's love in the creation of which we are apart. If we continue to exploit, deface and suffocate God's creation, what does this imply about our relationship to God and our relationship to one another?  
"Inspired and energized" were terms used by some participants to describe their feelings at the close of the weekend.