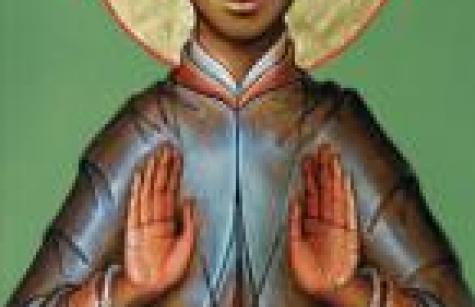 Designated by the Pontifical Council for Justice and Peace and the International Union of Superiors General, the International Day of Prayer for Victims of Human Trafficking invites us to advocacy and remembrance for victims and survivors of forced labor and commercial sex trafficking.
Pray the Prayer for Victims of Human Trafficking
February 8 was chosen for this day because it is the feast of St. Josephine Bakhita, herself a survivor of human trafficking and slavery.
St. Josephine was born near Darfur, Sudan in 1869 and abducted by slave traders at the age of 7. Her childhood - if it can be called that - was gruesome, but she retained an openness to beauty and life, nevertheless. After being sold to a family in Italy, she encountered the Canossian Sisters, who taught her the Catholic faith. She joined their order upon the approval of her petition for freedom. At her canonization, St. Pope John Paul II said that in St. Josephine Bakhita, "We find a shining advocate of genuine emancipation. The history of her life inspires not passive acceptance but the firm resolve to work effectively to free girls and women from oppression and violence, and to return them to their dignity in the full exercise of their rights."