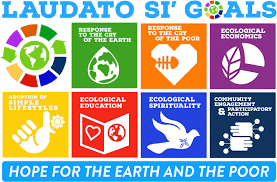 WHAT:
The AM Addressing Climate Change Committee (ACCC) invites you to a ZOOM presentation by Sister Mary Maher, SSND: Ecological Spirituality:  Reverencing God's Intimate and Saving Presence to All of Creation. This presentation will include prayer, reflection, and small and large group sharing on Sister Mary's presentation. 
WHEN:
The same presentation will be given twice via ZOOM on Wednesday, September 28, 2022 - first at 9:45-11:15 am Eastern time and again at 7:30-9:00 pm Eastern time.
WHY: The purpose of this presentation is to help us better understand our commitment to be a Laudato Si Congregation and to learn what the Goal: Ecological Spirituality means and asks of us. 
HOW: To register please email Sister Sharon Wall, SSND at swall@amssnd.org by Monday, September 12, 2022. Be sure to tell Sister Sharon if you wish to be in the morning OR the evening presentation.
When you register you will receive a ZOOM link as well as an article by Elizabeth Johnson, CSJ. Sister Mary Maher was asked to select an article and to build her presentation talk around it. So please read the article ahead of time to prepare for her presentation. This copyrighted article will be for your personal one time use only and absolutely may not be forwarded to anyone else.
Feel free to contact Sister Mary Heather MacKinnon, SSND at mhmssnd@gmail.com if you have any questions.