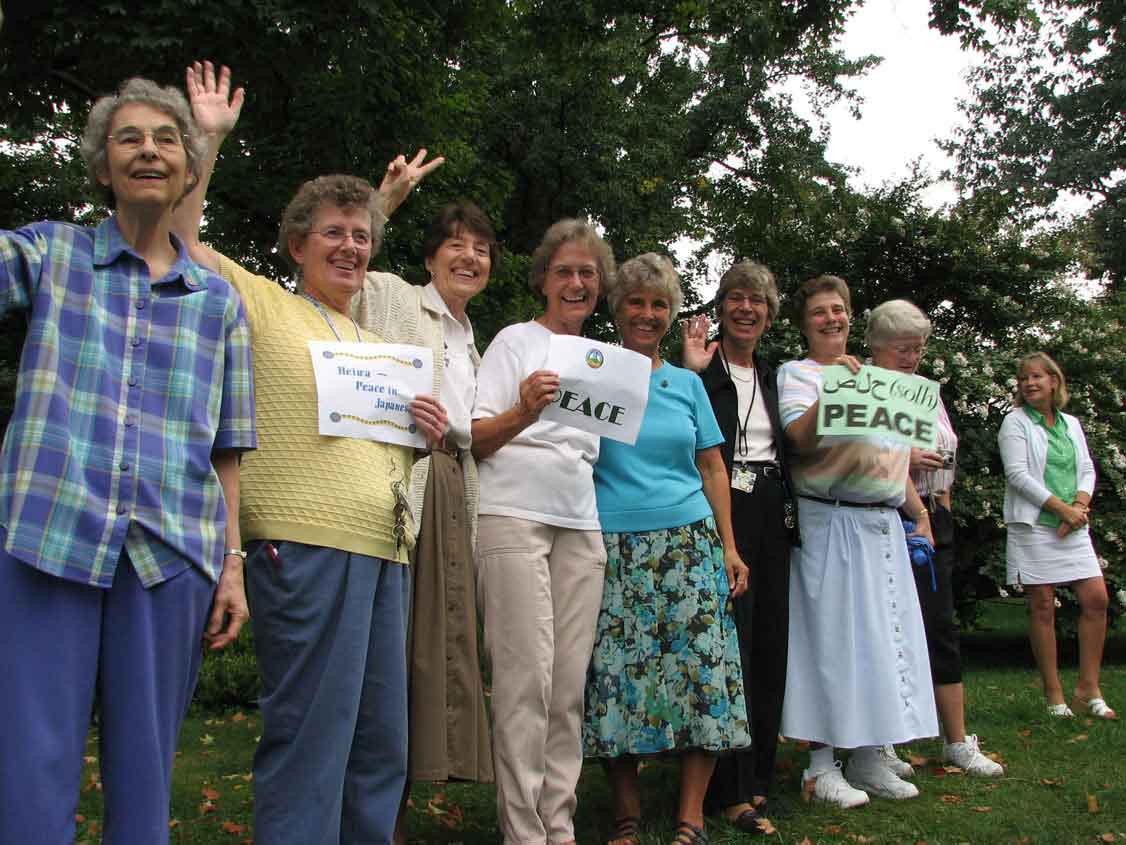 A statement from the Provincial Leaders of the Atlantic-Midwest and Central Pacific Provinces of the School Sisters of Notre Dame
Throughout this holy Christmas-Epiphany season, when the world is reminded of God's gift of peace and reconciliation, we have become increasingly aware that violent rhetoric and actions have escalated between the United States and Iran. As threats of Iran's retaliation for the U.S. assassination of Iran's military leader Qasem Soleimani intensify, U.S. troop deployments to the Middle East have increased, and threats of additional U.S. strikes on Iranian targets have been signaled. The world is holding its breath in fear of a war that will bring dire and wide-ranging consequences.
In his 2020 World Day of Peace message, Pope Francis wrote, "Peace and international stability are incompatible with attempts to build upon the fear of mutual destruction or the threat of total annihilation. We cannot claim to maintain stability in the world through the fear of annihilation, in a volatile situation, suspended on the brink of a nuclear abyss and enclosed behind walls of indifference."
As School Sisters of Notre Dame, we have been called by our congregational constitution You Are Sent to "direct our entire lives toward that oneness for which Jesus Christ was sent." Therefore, in response to this looming crisis, we are compelled to call upon the governments of the United States and Iran to stop their use of violent threats, provocative rhetoric and plans for retaliatory measures. We beseech world leaders to intervene in this crisis by initiating diplomatic pathways to dialogue between the U.S. and Iran. We call upon leaders of all religious faiths to nurture and promote a global culture of peace among the members of our various communities.
With Pope Francis, we pray that the governments of Iran and the United States will earnestly pursue peace rather than war at this time of crisis, for "the desire for peace lies deep within the human heart, and we should not resign ourselves to seeking anything less than this."
Charmaine Krohe, SSND, Provincial Leader, Atlantic-Midwest Province and
Debra M. Sciano, SSND, Provincial Leader, Central Pacific Province
(Quotes from Pope Francis' World Day of Peace Message, January 1, 2020.)
Want to help the push for peace? Please send this statement to your local legislators and let them know you stand in solidarity with this message. You can find out the contact information for all of your local lawmakers here: https://www.usa.gov/elected-officials