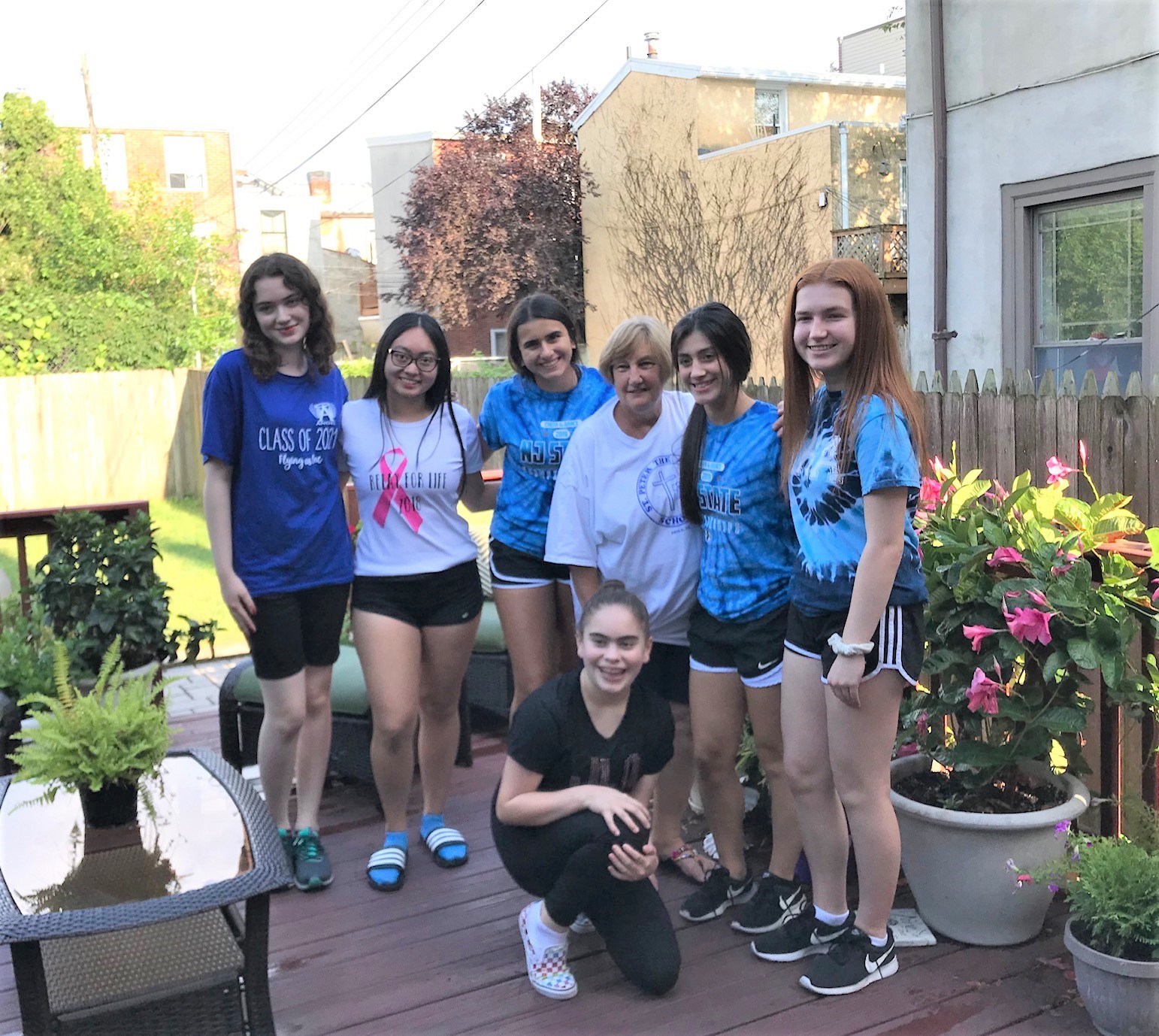 Each summer since 2011, volunteers from the Academy of the Holy Angels have been winging their way to Philadelphia to help organize Saint Peter the Apostle School for the new academic year. AHA students and their chaperones bring "sisterly love" and a good deal of muscle to Principal Rose Federici, SSND, and her staff.
This year, Erin Altenbach, Darynne Madison "Madi" Dela Gente, Kate Lyons, Valeria Pernicone, and Natasha Vafiadis set up the school store, folded uniform T-shirts, decorated bulletin boards, arranged classroom furniture, and moved supplies out of storage to help stock the offices and classrooms. Although Dela Gente had officially completed her community service requirement last summer, this member of the Class of 2021 was still ready to lend a hand.
"The idea of giving back to a school in the inner city appealed to me most when making the decision to join this service trip," she noted. "I felt it was a very enriching experience. When comparing this service project to other volunteer work I have done in the past, I felt the most fulfilled at the conclusion of this service project in particular. This is mainly because I found many similarities between St. Peter's and my own elementary school."
Dela Gente said the trip helped her to appreciate the amount of work that goes into preparing a school for a new year. "Specifically, it made me very grateful for all the teachers I have had and their unwavering efforts to make learning as enjoyable as possible," she continued. "Additionally, it widened my perspective on how the strength of faith is not determined by its environment. Visiting St. Peter's made me grateful for all of the luxuries we have at AHA. Aside from this, I was impressed at how every aspect of the school implemented the teachings of Jesus. I can say with certainty that faith is quite prevalent at St. Peter's. The staff was extremely welcoming and hospitable, and by the end, I felt almost as if I were a part of the St. Peter's family."
Sister Rose greatly appreciates the Angels' efforts. "You have no idea," Sister Rose told the volunteers. "This really helps us and saves the faculty so much time. It is so important that we keep up this linking of ministries."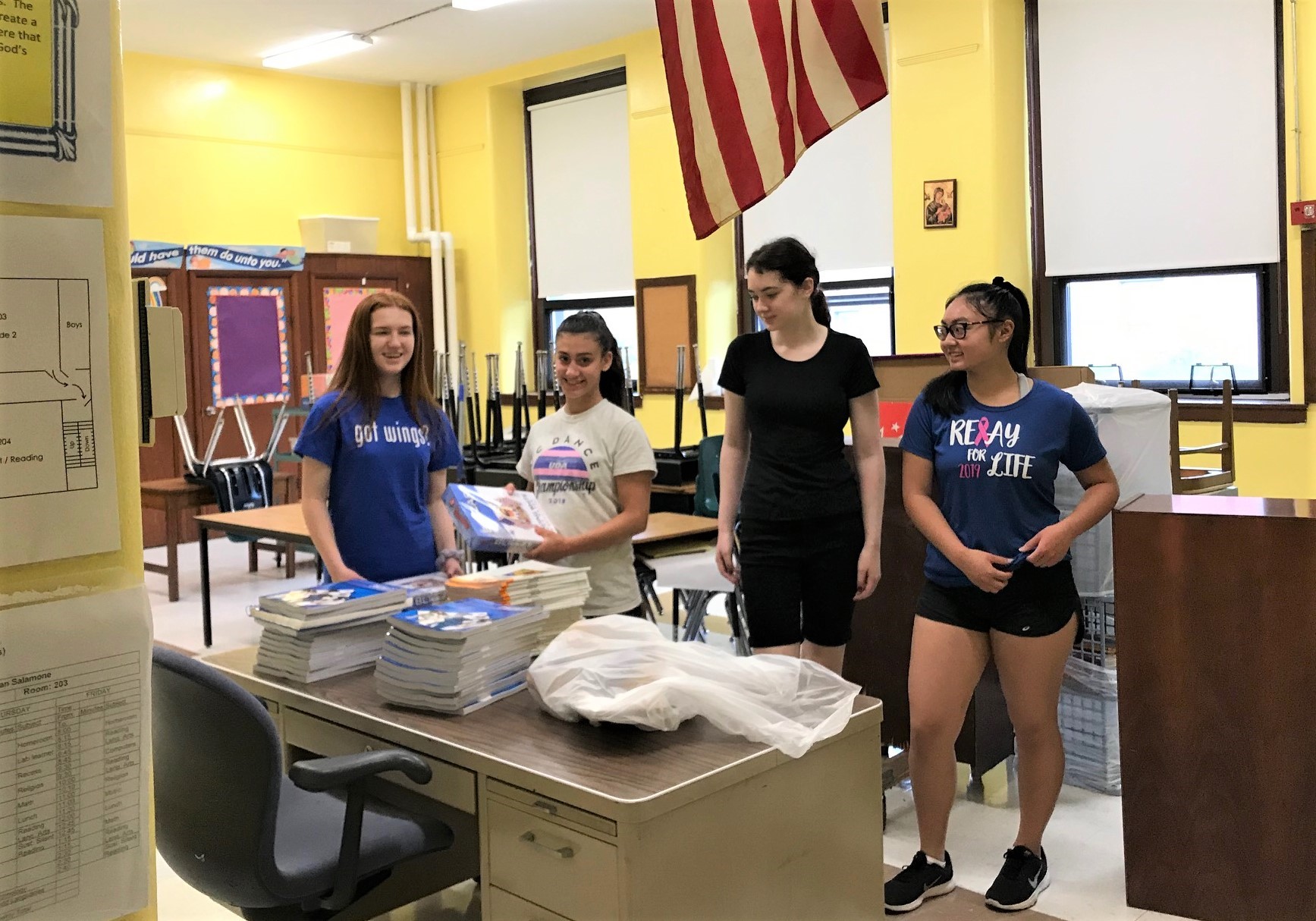 This service trip is part of a greater cooperative relationship between AHA and Saint Peter's, both of which were founded by the School Sisters of Notre Dame. AHA is a high school for girls located in Bergen County, New Jersey, and Saint Peter's is a co-ed school for students in pre-K through Grade 8. In December, students from Holy Angels make the trip to Philadelphia to celebrate Saint Nicholas Day at Saint Peter's. In the spring, students from Philadelphia travel to the AHA campus for Field Day.
"In addition to their work in the school, the Angels also took a few hours to explore historic Philadelphia, taking a walking tour to the Liberty Bell, Independence Hall, the Betsy Ross House and Ben Franklin's grave, to name a few things," said AHA Director of Campus Ministry Kathleen Sylvester. Sylvester chaperoned the team with AHA Director of Mission and Ministry Joan Connelly.  
"Each evening, the students prayed with Sister Rose and faculty from St. Peter's, reflecting on the issue of poverty and the two feet of service work: charity and justice. They spoke of the need to not only do works of charity, such as feed those who are hungry now, but also what can be done to fix the systemic things that keep the poor impoverished," Sylvester noted.
During their evening prayers, Sister Rose recognized her volunteers by recalling the words of SSND Foundress Blessed Theresa Gerhardinger of Jesus: "Love gives everything again and again."